WASHINGTON (TheBlaze/AP) -- Donald Trump's campaign is planning for what it says will amount to $140 million worth of advertising from now until Election Day.
The total, if executed, would include $100 million in television airtime and $40 million in digital ads, according to senior communications adviser Jason Miller.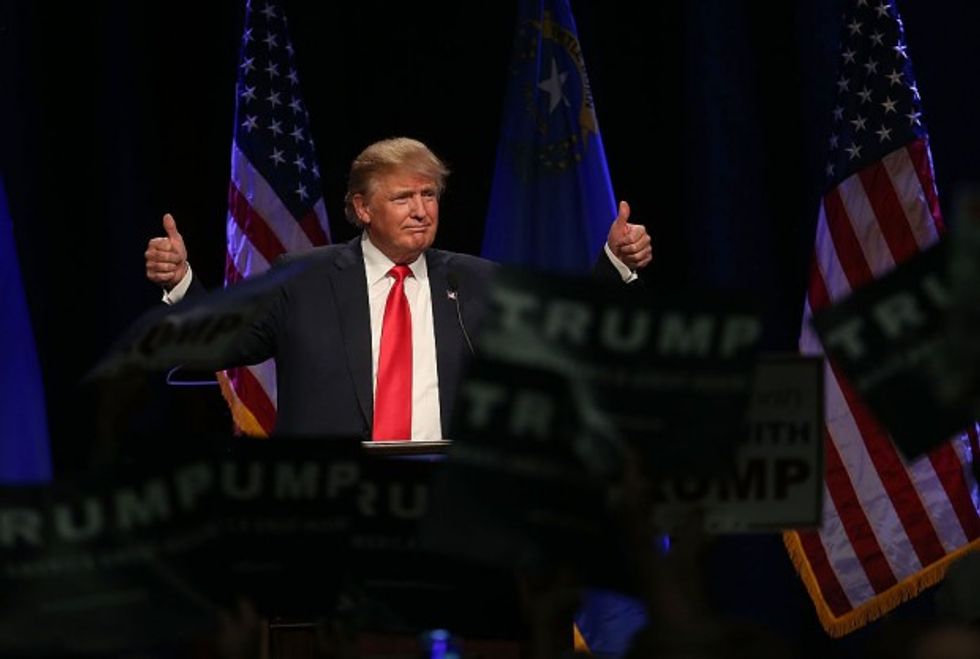 Republican presidential nominee Donald Trump. (Getty Images/Justin Sullivan)
The plan represents a new approach for the billionaire businessman, who has repeatedly bragged in recent weeks about how much less he's spent than Democratic rival Hillary Clinton and seemed to rely heavily on free media coverage of his large rallies.
Through this week, the Trump campaign has put only about $22 million into TV and radio ads for the general election, according to Kantar Media's political advertising tracker. Clinton has spent more than five times as much on those kinds of ads, $124 million to date.
Trump's new ad buy will include 13 states, from key battlegrounds such as Florida, North Carolina, Ohio and Pennsylvania, to new targets of Maine, New Mexico and Wisconsin, Miller said. About $40 million of the ads will play on national TV, he said.
That averages to about $16.7 million per week in TV ads; Miller said the first $15 million ad buy was made Friday, although media buyers and services such as Kantar Media didn't immediately see evidence of that.
Clinton's ad reservations going forward total about $11 million per week, but her campaign can add to those buys at any time.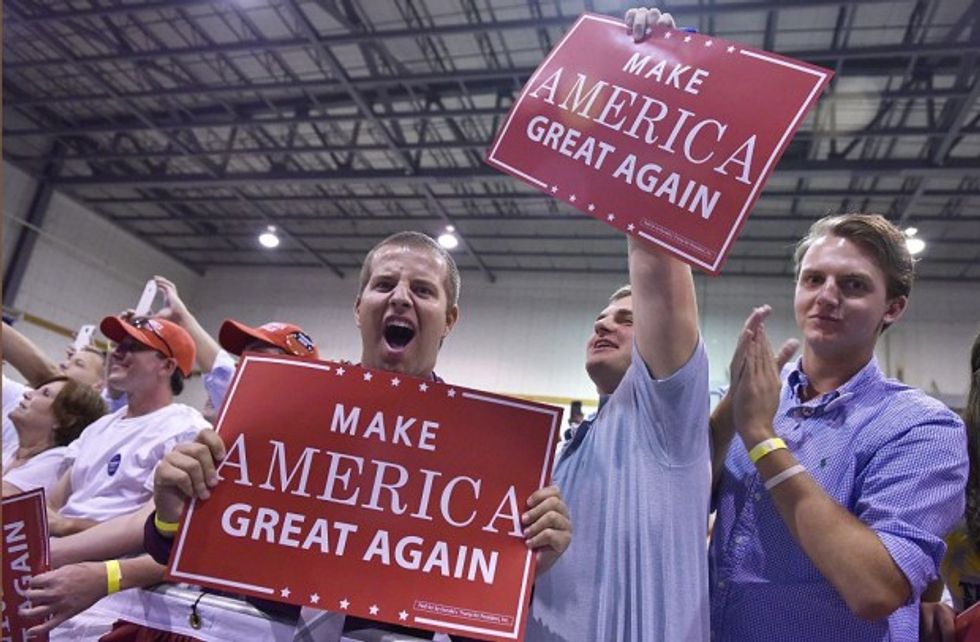 Supporters of Republican presidential nominee Donald Trump are seen during a rally in Pennsylvania on Thursday. (Getty Images/MANDEL NGAN/AFP)
Trump's advertising plan costs more than his campaign has in the bank, meaning he needs to dip into his own pockets or continue raising major money.
As of Sept. 1, the campaign had about $50 million in cash, though in a news release earlier this month, the campaign said it had $97 million in cash when including his joint accounts with Republican Party allies.
Trump has continued to experience strong fundraising online this month, campaign aides said. The strong fundraising comes after the campaign experienced their highest month of fundraising to date in August. The campaign announced earlier this month they had raised $90 million during that month.
Miller said upcoming national television ads would focus on Trump's key campaign themes, such as the economy and law and order.
The local ads, however, are expected to focus on ways Trump's policies might benefit local communities and families, Miller said.
—