Arnold Palmer, the seven-time major winner who brought golf to the forefront of the sports world, died Sunday. He was 87.
The United States Golf Association confirmed Palmer's death on Twitter around 8:40 p.m. EST.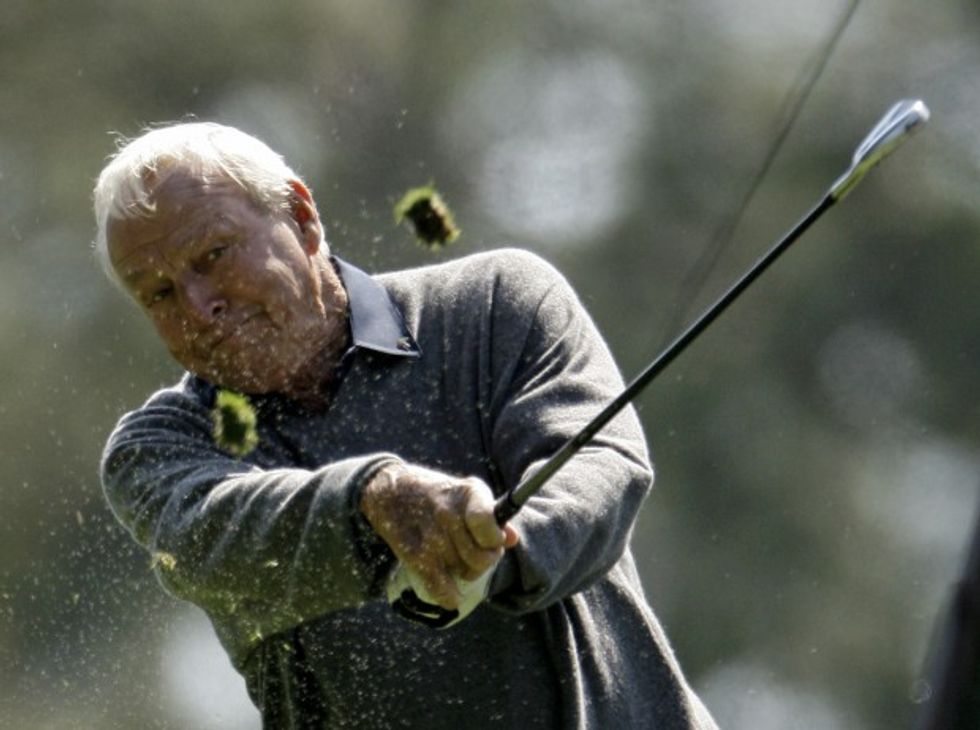 Former Masters champion Arnold Palmer tees off on the first hole during the Par 3 contest before the Masters golf tournament at the Augusta National Golf Club in Augusta, Ga., Wednesday, April 8, 2009. (AP Photo/Chris O'Meara)
According to the Pittsburgh Post-Gazette, Palmer died during a stay at a Pittsburgh hospital, where he had been since Thursday. The newspaper reported that Palmer had been undergoing heart tests.
Palmer turned pro in 1954 and played professional golf through the new millennium, retiring in 2006. During his career, Palmer amassed 95 professional wins, 62 of them coming on the PGA tour.
He was victorious in the Masters tournament four times, while he won the Open Championship twice and the U.S. Open only once. He was never able to secure a victory in the PGA Championship, though he did place second in the tournament three times.
In 1974, Palmer was inducted into the World Golf Hall of Fame as one of the original 13 members.
Beyond his golf, Palmer was a pioneer in sports marketing, paving the way for scores of other athletes to reap in millions from endorsements. Some four decades after his last PGA Tour win, he ranked among the highest-earners in golf.
Palmer may have been most famously known for creating his own drink, which bears his name and consists of one part iced tea and one part lemonade. He and the drink were even featured in a 2012 ESPN commercial.
Palmer was also a recipient of the Presidential Medal of Freedom in 2004 and the Congressional Gold Medal in 2009.
The Associated Press contributed to this report.
—
Follow the author of this story on Twitter and Facebook:
[facebook //www.facebook.com/plugins/like.php?href=