HEMPSTEAD, N.Y. — As the beginning of Monday's debate homed in on jobs and the economy, Democratic presidential nominee Hillary Clinton dealt the first blow, accusing her counterpart of wanting to give more benefits to the wealthy.
Clinton argued during the first 2016 presidential debate at Hofstra University in Long Island that GOP nominee Donald Trump's tax plan would be "the most extreme version" of trickle-down economics with "the biggest tax cuts for the top percents of the people in this country."
"I call it 'Trumped-up trickle-down,' because that's exactly what it would be," Clinton quipped. "That is not how we grow the economy."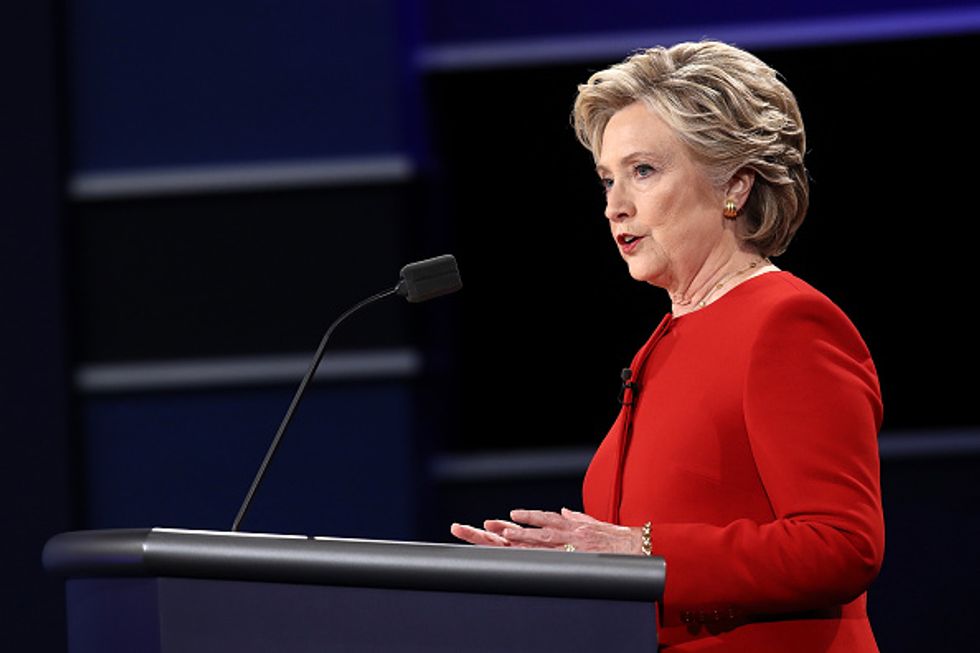 Democratic presidential nominee Hillary Clinton speaks during the Presidential Debate at Hofstra University on September 26, 2016 in Hempstead, New York. (Getty Images/Win McNamee)
"We just have a different view about what's best for growing the economy, how we make investments that will actually produce jobs and rising incomes," she continued, arguing that her and Trump view the economy through "different perspectives" as he inherited his business from his father.
"And he really believes that the more you help healthy people, the better off we'll be and that everything will work out from there," Clinton said.
She continued to hit her opponent on his "Trumped-up trickle-down" policies later in the debate as she advocated for growing the middle class and eliminating college debt.
But Trump countered that he was "very proud" of his proposed tax cuts as he compared his plan to that of former Republican President Ronald Reagan's. His plans that would create more American jobs by keeping businesses in the U.S. instead of going overseas, Trump argued.
—
Follow Kaitlyn Schallhorn (@K_Schallhorn) on Twitter