Just hours ahead of the first presidential debate between Republican Donald Trump and Democrat Hillary Clinton, some police departments are offering viewers a few tongue-in-cheek reminders.
While 1,000 police officers on the ground at Hofstra University in Hempstead, New York, along with Secret Service agents and state police, are preparing for up to 10,000 protesters, some police departments are giving safety tips to Americans watching the debate from home.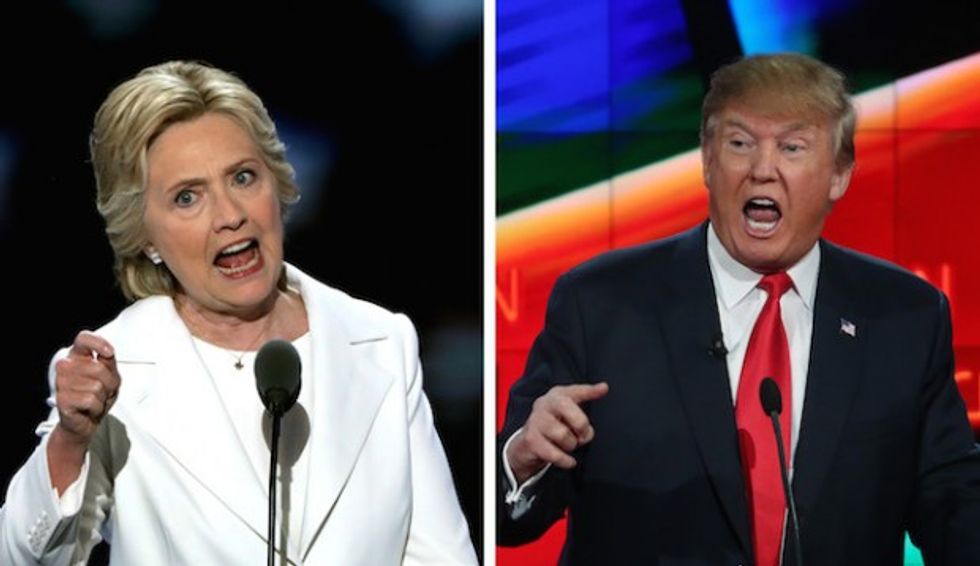 (Photo by Justin Sullivan/Getty Images)
The Lawerence Police Department in Kansas is reminding debate watchers that being mad at Trump or Clinton — or both — is not a valid reason to call 911. They are also discouraging "binge drinking" during the highly-anticipated showdown.
REMINDER
We realize politics can make emotions run high, but being mad at a presidential candidate in a debate is NOT a reason to call 911.

— Lawrence Police (@LawrenceKS_PD) September 26, 2016
Additionally, drinking games where you drink every time someone says "yuge" leads to binge drinking, and we discourage that strongly

— Lawrence Police (@LawrenceKS_PD) September 26, 2016
And in Oregon, where recreational marijuana is legal, the Portland Police Department is reminding residents to stay off the road if they are planning to smoke pot or consume alcohol.
If you are planning to consume alcohol or marijuana while watching #DebateNight please do not get behind the wheel. pic.twitter.com/g2Ib33M1aX

— Portland Police (@PortlandPolice) September 26, 2016
Even the RNC — no, not the Republican National Convention, but the Royal Newfoundland Constabulary in Canada — is getting in on the debate action, joking about live-streaming the historic forum.
We'll be live steaming tonight's presidential debate. Oh right, different RNC - no we won't.

— RNC (Police) (@RNC_PoliceNL) September 26, 2016
Monday night's debate, which will be moderated by NBC "Nightly News" anchor Lester Holt, is expected to draw 100 million viewers — the largest audience in televised debate history. The very first TV debate between John F. Kennedy and Richard Nixon was the next most-watched debate with 74 million viewers.
The event begins at 9 p.m. and will last 90 minutes with no commercial breaks.
—
Follow the author of this story on Twitter: