HEMPSTEAD, N.Y. — Republican presidential nominee Donald Trump made sure to plug his newest hotel in Washington, D.C. from the debate stage Monday night.
The real estate mogul lifted up his new hotel at the Old Post Office Pavilion in the nation's capital of an example of a good business model during Monday's first 2016 presidential debate in Hempstead, New York.
"We're opening the old post office, under budget, ahead of schedule, saved tremendous money, I'm a year ahead of schedule, and that's what this country should be doing," Trump said.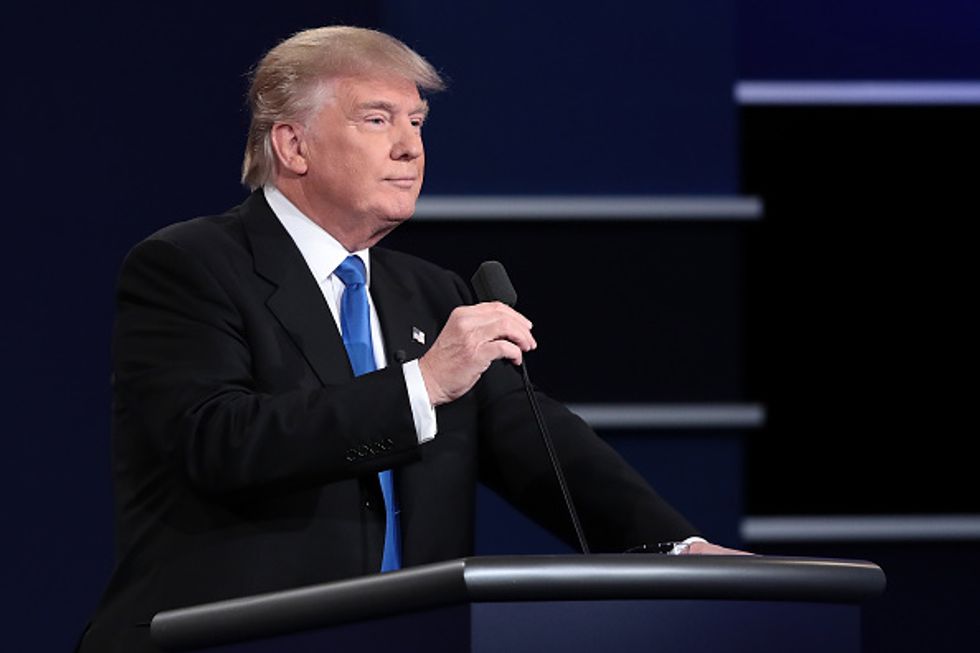 Republican presidential nominee Donald Trump looks on during the Presidential Debate at Hofstra University on September 26, 2016 in Hempstead, New York. (Getty Images/Drew Angerer)
Citing the cost of building roads as well as sending supplies to the U.S. military, Trump argued that the country has spent too much money.
"We don't have people who know what they're doing," he said. "When we look at the budget, the budget is bad to a large extent because we have people that have no idea as to what to do and how to buy."
"Trump International is way under budget and way ahead of schedule and we should be able to do that for our country," Trump continued.
Washingtonian's Benjamin Freed reported that Trump International Hotel served a special menu during the debate that featured "unlimited Amerrica beer" for $100 per person.
At Hofstra University Monday night, Trump joked that his newest hotel would be a way to get him to Pennsylvania Avenue even if he does not win the presidency.
"We're just opening up on Pennsylvania Ave., right next to the White House, so if I don't get there one way, I'm going to get to Pennsylvania Ave. another," he quipped.
—
Follow Kaitlyn Schallhorn (@K_Schallhorn) on Twitter