In an unexpected twist Monday night during the first presidential debate, voters leaning toward Donald Trump who were scoring the showdown in real time seemed to like Hillary Clinton's plan to defeat the Islamic State more than left-leaning voters.
Trump accused Clinton and President Barack Obama of creating a "vacuum" by pulling troops out of Iraq. The billionaire businessman, who early in the debate said Clinton has been fighting the 12-year-old terror group her "entire life," said the Islamic State would not have formed if some military personnel had remained in Iraq.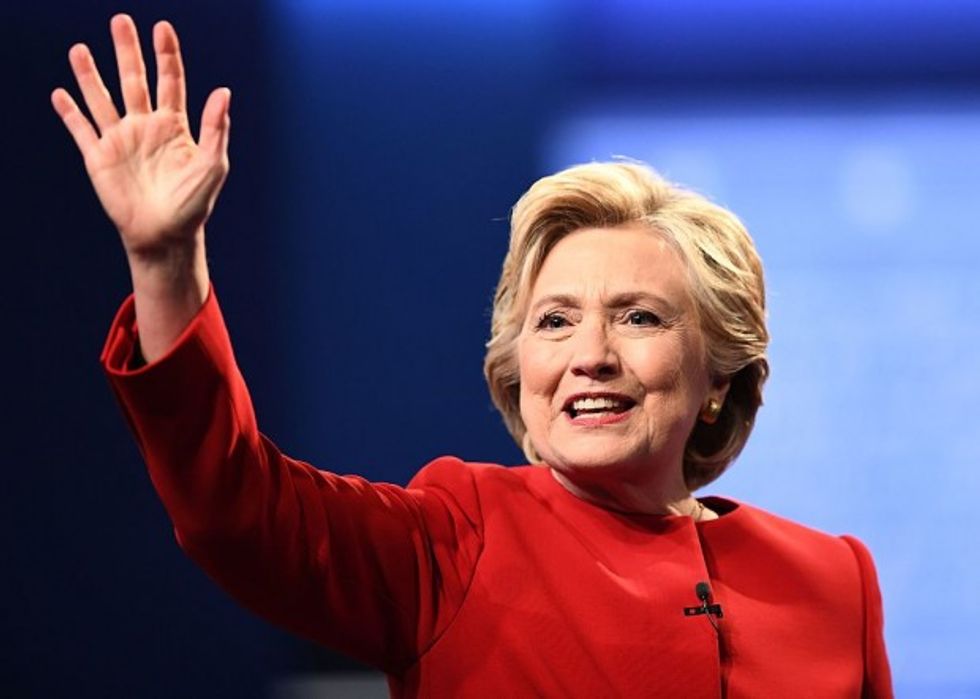 JEWEL SAMAD/AFP/Getty Images
The GOP presidential nominee told Clinton he doesn't think she will actually defeat the Islamic State if she wins the presidency in November. However, Trump's own supporters appeared to like Clinton's plan to defeat the radical terror group, according to a focus group test by pollster Frank Luntz.
Clinton told the audience gathered at Hofstra University in Hempstead, New York, that the U.S. is "making progress" in the fight against the Islamic State, adding that she's hoping the radical terror organization will be pushed out of Iraq within the year, while also noting the jihadist group is benefiting from foreign volunteers, money and weapons.
"We have to make this a top priority and I would also do everything possible to take out their leadership," the former secretary of state said.
But, even as Trump hit Clinton for publishing details of her plan to fight the Islamic State, it was what she told voters Monday night that led Trump-leaning viewers to give Clinton a higher score than even her own left-leaning base judging the debate live from Pennsylvania.
"I was involved in a number of efforts to take out al Qaeda leadership when I was secretary of state, including, of course, taking out bin Laden, and I think we need to go after [Islamic State leader Abu Bakr al-]Baghdadi as well — make that one of our organizing principles because we've got to defeat ISIS and we've got do everything we can to just disrupt their propaganda efforts online."
The members of Luntz's focus group had not endorsed either candidate, but did identify which presidential nominee they were leaning toward supporting.
See the dial test below:
Hillary's plan to fight ISIS scored higher with Trump-leaners than even with her own HRC-leaners.#DebateNight pic.twitter.com/N7NohqkTPl

— Frank Luntz (@FrankLuntz) September 27, 2016
—
Follow the author of this story on Twitter: