The very first presidential debate between Republican Donald Trump and Democrat Hillary Clinton has for weeks been the most-anticipated television event, and it immediately lived up to expectations Monday night.
Less than 30 minutes into the debate at Hofstra University in Hempstead, New York, Trump had already intensely challenged Clinton on issues ranging from jobs and corporations leaving the U.S. to the negative impacts of trade deals she has supported in the past.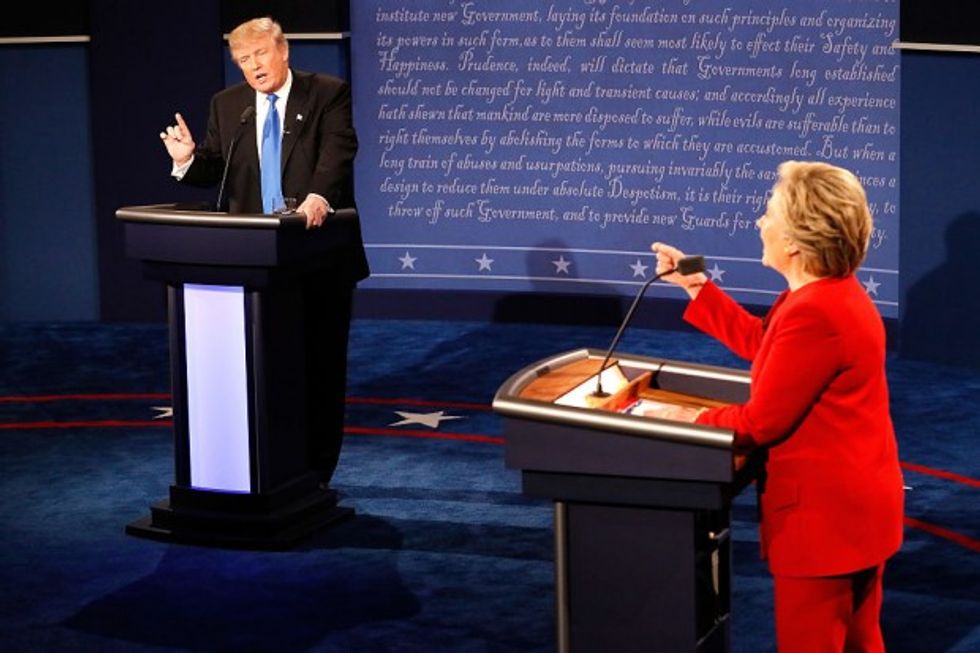 Rick Wilking - Pool/Getty Images
While Clinton told the audience — which is expected to reach 100 million people — that much of what Trump said is untrue, she assumed she will be blamed for "everything that's ever happened" during the 90-minute showdown.
"I have a feeling that by the end of this evening I'm going to be blamed for everything that's ever happened," Clinton said.
"Why not?" Trump quickly interjected.
"Why not — yeah, why not," Clinton responded laughingly. "You know, just join the debate by saying more crazy things."
The audience in the auditorium, which was instructed by moderator Lester Holt, anchor of NBC's "Nightly News," to remain silent, laughed at the interaction between the two candidates.
Watch below:
.@HillaryClinton: By the end of the debate, "I'm going to be blamed for everything that's ever happened" #Debates https://t.co/ZPCu1CjlBr

— This Week (@ThisWeekABC) September 27, 2016
—