Following the first presidential debate between Democrat Hillary Clinton and Republican Donald Trump Monday night, one journalist asked former New York City Mayor Rudy Giuliani if he believes the billionaire businessman, who he advises, is a feminist.
He told Elite Daily writer Alexandra Svokos he is "absolutely sure" Trump is a feminist, noting that he has promoted several women within the Trump Organization, and said Clinton is "too stupid to be president" because she stood by her husband, former President Bill Clinton, when he engaged in an affair with then-White House intern Monica Lewinsky.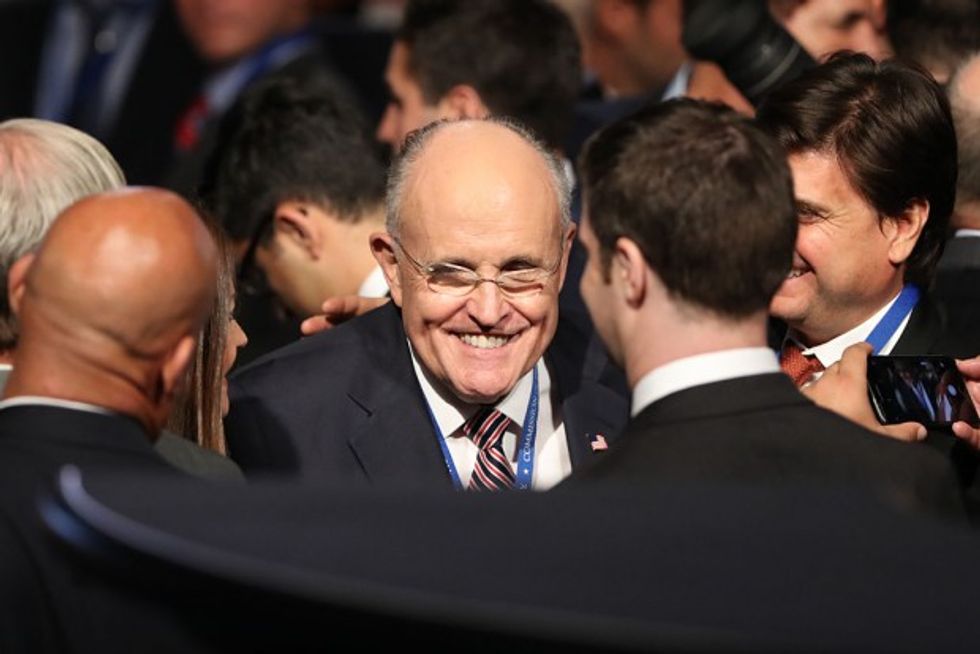 JOE RAEDLE/AFP/Getty Images
Giuliani said Trump was "too gentlemanly" in his response to Clinton when she said her Republican rival "loves beauty contests," noting that he would have attacked Clinton on the Lewinsky ordeal.
"I sure would've talked about what she did to Monica Lewinsky, what that woman standing there did to Monica Lewinsky, trying to paint her as an insane young woman when in fact Monica Lewinsky was an intern," he said, adding:
The president of the United States, her husband, disgraced this country with what he did in the Oval Office and she didn't just stand by him, she attacked Monica Lewinsky. And after being married to Bill Clinton for 20 years, if you didn't know the moment Monica Lewinsky said that Bill Clinton violated her that she was telling the truth, then you're too stupid to be president.
That line of attack from Giuliani is in following with allegations that Clinton attacked Lewinsky and attempted to silence her, even allegedly calling the ex-intern a "narcissistic loony toon," in the 1990s, as rumors of her sexual interaction with the former president were beginning to make headlines.
Trump, for his part, said Tuesday morning on Fox News' "Fox & Friends" that he chose not to go after Clinton on the Lewinsky affair because he didn't feel it was appropriate with Chelsea Clinton in the audience.
See Giuliani's comments below:
I asked Giuliani if Trump is a feminist #DebateNight pic.twitter.com/xWvkgVuKXV

— Alexandra Svokos (@asvokos) September 27, 2016
—
Follow the author of this story on Twitter: