A man is facing charges after Detroit police said he posted a threat against law enforcement officers on social media during a live stream of an officer's funeral.
According to WXYZ-TV, a social media user going by "Kane Pnotes" posted a threatening message against police officers on their Facebook page as they live-streamed the funeral mass for Detroit Police Sgt. Kenneth Steil, who recently died after he was shot in the line of duty.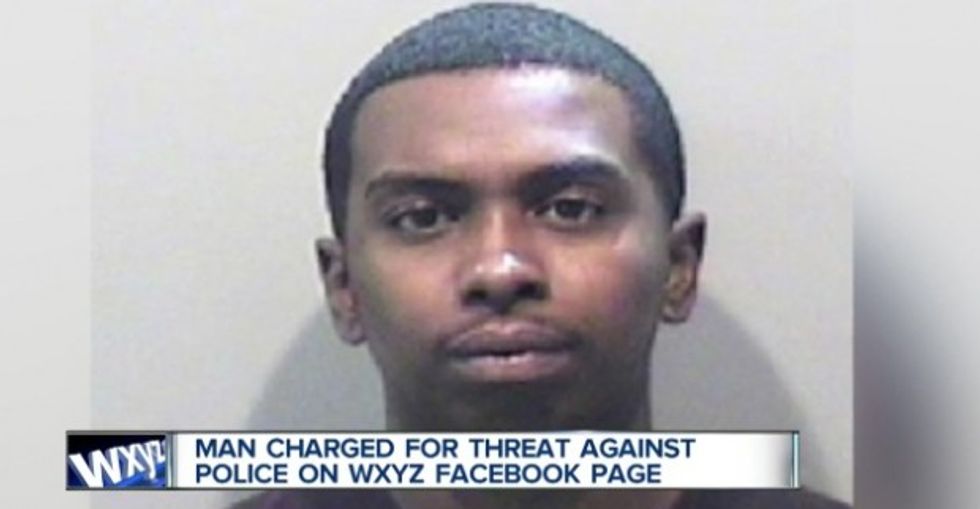 Image source: WXYZ-TV
"Maybe I should drop a bomb on the building to get rid of the rest of y'all," Pnotes wrote.
Police have accused Deshawn Maurice Lanton of writing the post and of posting several videos depicting police officers getting hurt and saying "how pleased he was to see officers being injured."
WXYZ adds that Lanton "is on probation with the Michigan Department of Corrections — and has been convicted of fleeing police, assaulting/resisting/obstructing police and receiving/concealing stolen property."
Police Chief James Craig thanked WXYZ for being their "partner" in the investigation and for promptly reporting the threat. He said his department will "relentlessly pursue" anyone who makes a threat against an officer.
—
Follow the author of this story on Twitter and Facebook: