Police in California are looking at cellphone video recorded Sunday in an attempt to find the people who repeatedly kicked an officer's cruiser while he was operating it.
"In all the time I've been in this department, 37 years, I've never heard of anything like this happening," Fresno Police Chief Jerry Dyer told KFSN-TV of the event that he described as "extremely brazen."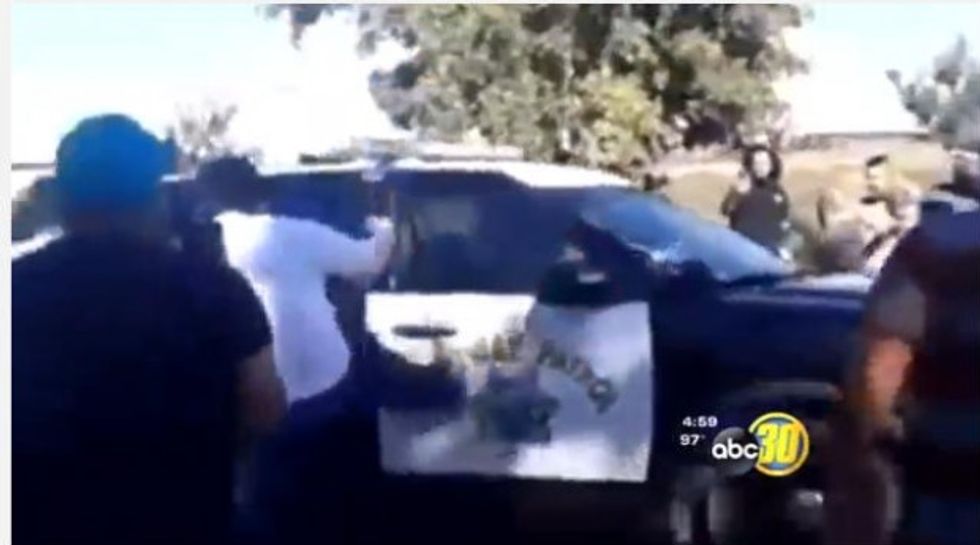 Image source: KFSN-TV
Dyer said the patrolling officer saw a large group of people blocking the road while watching cars driving recklessly. He added that the officer tried to stop one of the vehicles when several people attacked the cruiser with him inside.
The officer was not hurt, but the group did cause about $12,000 worth of damage in broken windows and dents to the vehicle. The officer did not get out of his cruiser. Instead, he is seen driving away moments into the video.
"Had he gotten out of that vehicle, I'm not sure what would've happened. He may [have] been put in a position he had to use deadly force," Dyer said.
The chief said that not all of the "instigators" are from the Fresno area. Some, he said, are the same people who acted in similar attacks on law enforcement in the San Francisco Bay area.
"We're going to identify as many people as possible that were involved in this incident, and we're going to arrest them, take them to jail, and work with the DA's office to prosecute them and make sure they're prosecuted on some serious felony charges," Dyer told KFSN. "If there are individuals out there who are this brazen to do this to a CHP officer, they'll do it to another citizen. And we have a responsibility to prevent this type of anarchy in our community and that's why we take this so serious."
This story has been updated.
—
Follow the author of this story on Twitter and Facebook: