Former House Speaker Newt Gingrich, a senior advisor to Donald Trump, said Friday night there is "no excuse" for the Republican presidential nominee's early morning Twitter rant against former Miss Universe pageant winner Alicia Machado.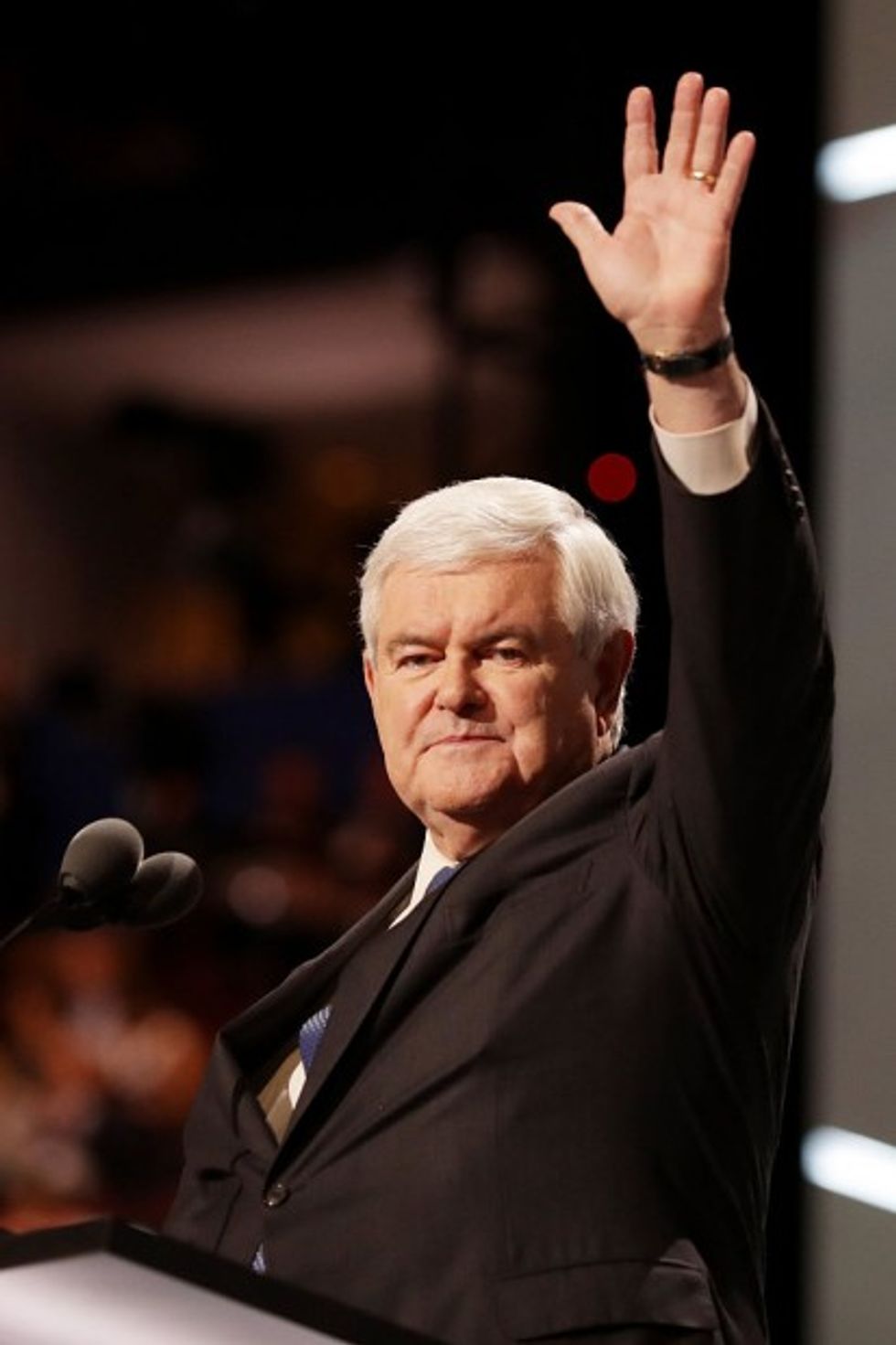 Chip Somodevilla/Getty Images
"You can't tweet at 3:00 in the morning — period. There's no excuse. Ever," Gingrich said. "Not if you're gonna be president of the United States. So he's really gotta decide… If he's gotta be himself, then he may well not win. If he's willing to grow into the role of president, than he may win."
Gingrich made the comments during an appearance with Fox News host Sean Hannity, an unwavering supporter of Trump's candidacy. Hannity avoided agreeing with Gingrich or offering any critique of his own for the billionaire businessman, but instead seemed to tepidly defend Trump's recent behavior because it is "frustrating" to see the media's double standards.
The conversation then shifted toward debate preparation — something Gingrich said Trump needs to do "a lot" more of ahead of the next debate, which is a town hall format and will be moderated by ABC's Martha Raddatz and CNN's Anderson Cooper, who the former lawmaker said is "viscerally, deeply opposed to Donald Trump."
"He's gotta decide that saving America and 'making America great again' is worth his subordinating himself to the difficult process of becoming president of the United States, and that's very different than just being a candidate," Gingrich said.
Gingrich, sounding somewhat surprised, went on to say Trump should have "sidestepped the ambush" regarding Machado and his past comments about her weight instead of being "sucked into it" for an entire week.
"You know, I didn't get to be a good debater by randomly doing it," Gingrich told Hannity. "It takes training, it takes thinking, it takes learning your own mistakes, going, 'Wow, I didn't know I did that,' and so I really hope that this is a wake up call for him."
"Quit tweeting without someone looking over your shoulder," he continued. "Don't ever tweet late at night and prepare and study and get ready for a serious debate because he's — really, this next debate is going to be very important for how people judge him and whether or not they think he's capable of being president."
Gingrich's scolding was, of course, in response to this 5 a.m. tweet storm from Trump:
Wow, Crooked Hillary was duped and used by my worst Miss U. Hillary floated her as an "angel" without checking her past, which is terrible!

— Donald J. Trump (@realDonaldTrump) September 30, 2016
Using Alicia M in the debate as a paragon of virtue just shows that Crooked Hillary suffers from BAD JUDGEMENT! Hillary was set up by a con.

— Donald J. Trump (@realDonaldTrump) September 30, 2016
Did Crooked Hillary help disgusting (check out sex tape and past) Alicia M become a U.S. citizen so she could use her in the debate?

— Donald J. Trump (@realDonaldTrump) September 30, 2016
See the exchange below:
—
Follow the author of this story on Twitter: