For the first time in the paper's 148-year history, the San Diego Union-Tribune is endorsing a Democrat for president.
The paper announced the endorsement Friday in an editorial titled, "Why Hillary Clinton is the safe choice for president."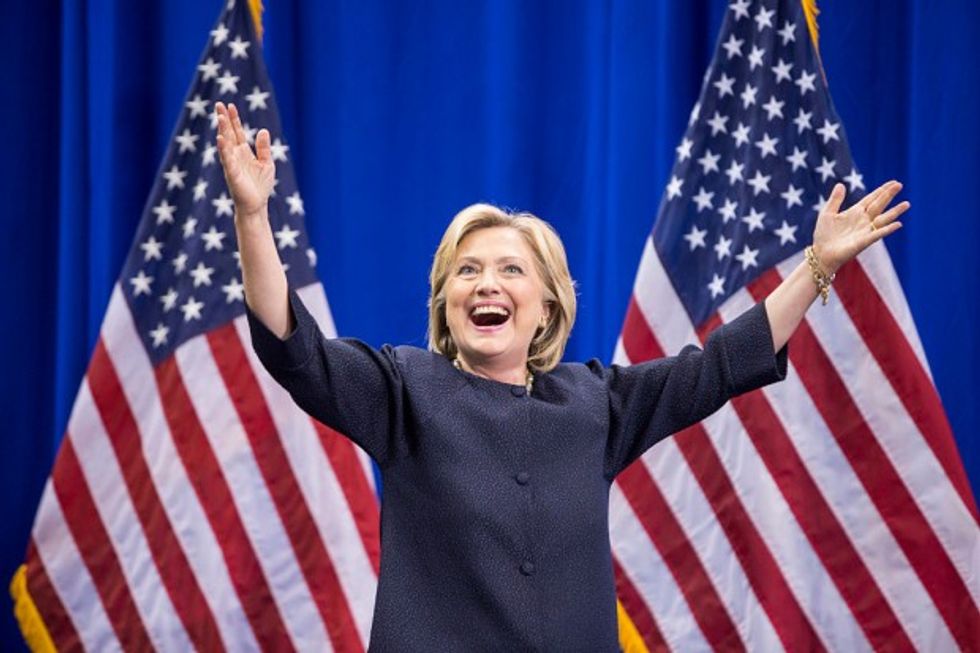 Democratic presidential candidate Hillary Clinton raises her arms stands on stage during the New Hampshire Democratic Party Convention. Sept. 19, 2015. (Getty Images/Scott Eisen)
Although the paper's endorsement of Democratic nominee Hillary Clinton wasn't rousing by any means, the Union-Tribune's editorial board wrote that they chose Clinton over Republican Donald Trump because of her temperament, experience and existing relationships with world leaders.
"We understand the lack of enthusiasm for her candidacy, the anger over her private email server, family foundation and income from Wall Street speeches, and the questions about how America fared in foreign affairs when she was secretary of state," the board wrote. "But despite Trump's insistence otherwise, she has the better temperament to be president — and the experience, background and relationships with world leaders that we need in a president."
The editorial board said of Trump:
"But if Trump is elected president, he will no longer just be putting on a show. Upon inauguration on Jan. 20, he would be in charge of the executive branch of a global superpower and possess enormous authority, operating with no coherent worldview besides "I alone can fix it." Military leaders have said Trump will face pushback if he orders them to do illegal things, such as torturing the families of terrorists, but in many crucial parts of the government, a President Trump will be able to people his administration with individuals whose jobs depend on keeping him happy. Imagine that. Imagine President Trump."
According to the editorial, a President Trump would likely bring an administration that: is friendlier to "ruthless Russia" than historic allies, reneges on treaty commitments, ruins U.S. trustworthiness in international finance, launches a trade war and has an open enemies list.
The paper even alleged that a President Trump could transform into a leader similar to several South American dictators, citing Venezuela's Hugo Chavez and Argentina's Cristina Kirchner. "Terrible leaders can knock nations off course," the paper wrote.
"This is why Hillary Clinton is the safest candidate for voters to choose in a complex world," the editorial board said.
In 2012, the paper endorsed Republican nominee Mitt Romney for president.
—
Follow the author of this story on Twitter and Facebook:
[facebook //www.facebook.com/plugins/like.php?href=