After the New York Times published its bombshell report on Republican presidential nominee Donald Trump's 1995 tax returns, the Manhattan billionaire's attorney was quick to call the newspaper's publication of the records "illegal."
But is he right?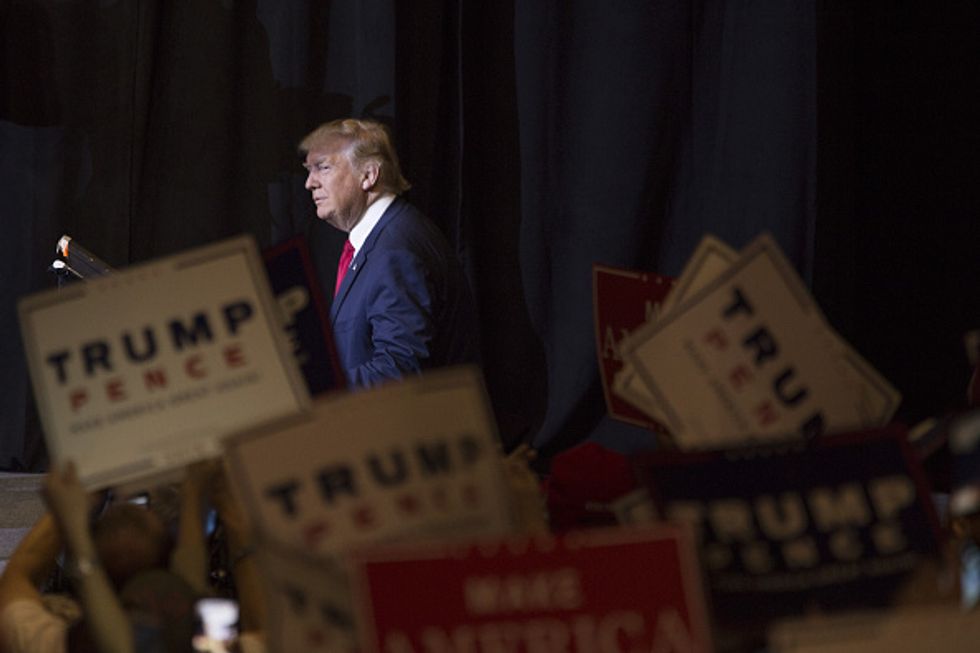 Republican presidential nominee Donald Trump arrives to speak during a campaign event in Pueblo, Colorado. The worst week of Trump's presidential campaign began with a widely criticized debate performance and ended with a bombshell report that he might have avoided paying federal income taxes for 18 years. (Getty Images/Matthew Staver)
On Saturday, the Times published an article after reporter Susanne Craig found pages of Trump's 1995 tax returns in her mailbox. According to the report, Trump declared a $916 million loss that year — a loss so substantial that it could allow Trump to legally avoid paying federal income taxes for up to 18 years.
Marc E. Kasowitz, a lawyer for Trump, told the Times that the publication of the records is illegal as Trump did not authorize its disclosure. He also threatened "prompt initiation of appropriate legal action."
And in a separate statement, Trump's campaign said the "only news" in the report was "illegally obtained" as it slammed the Times as an "extension" of Democratic presidential nominee Hillary Clinton's campaign.
But aside from threats from the Trump camp, Law Newz pointed out that federal law does say it is "unlawful" for "any person" to "print or publish" unauthorized tax returns:
It shall be unlawful for any person to whom any return or return information (as defined in section 6103(b)) is disclosed in a manner unauthorized by this title thereafter willfully to print or publish in any manner not provided by law any such return or return information. Any violation of this paragraph shall be a felony punishable by a fine in any amount not exceeding $5,000, or imprisonment of not more than 5 years, or both, together with the costs of prosecution.
Law Newz, which said in its own headline that the Times "likely broke the law" by publishing the tax returns, also noted that whoever sent the anonymous envelope with the documents to Craig could face serious legal ramifications as well.
"If released from the files of the IRS or a state tax agency by a government employee, this would be a felony," Robert Kovacev, a tax attorney with Steptoe & Johnson, told Law News.
But the legal blog Concurring Opinions cited a multitude of First Amendment experts who argued that the Times would have good legal standing so long as it did not participate in illegally obtaining those tax documents.
"The notion that the Times could be held liable in some fashion for publishing information it lawfully obtained about Donald Trump's taxes is delusional," Robert Corn-Revere with Davis Wright Tremaine LLP told the blog. "There are hard First Amendment cases but this would not be one of them."
"The assertion that the press cannot analyze the tax returns of a presidential candidate without first getting the candidate's authorization is preposterous," he continued. "It reveals a depth of ignorance that is unprecedented even in this election cycle."
Steven R. Shapiro, with the American Civil Liberties Union, told Concurring Opinions that it will be up to the voters to take away whatever information they will regarding Trump's tax returns, "but there can be no serious question about the right of the Times to publish that information."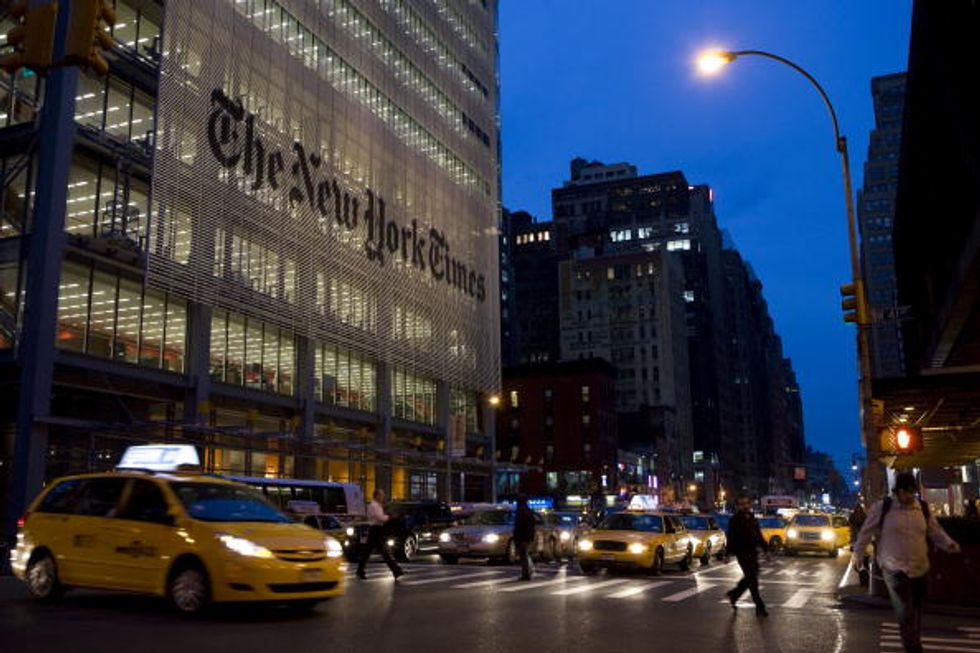 The exterior of the New York Times building in New York City. (Getty Images/Jonathan Torgovnik)
"The Supreme Court has clearly and repeatedly held that the First Amendment protects the right of the press to publish information on matters of public concern, and that is true even if the information was unlawfully obtained by someone who then gave it to the press," Shapiro said.
Harvard Law professor Laurence Tribe called the "idea of suing the New York Times" over the publication of Trump's tax records "ludicrous."
"Regardless of who leaked that information to the Times, the First Amendment flatly forecloses any such use of judicial power to deprive the public of truthful information, especially given its relevance to a national election," he said.
Trump has come under fire during the 2016 presidential campaign as he has repeatedly refused to release his tax returns. The Manhattan billionaire has asserted that he does not wish to release the returns because he is under audit.
Still, Trump supporters are clearly unhappy with the report and publication of the records. The pro-Trump website Breitbart accused the Times of having "excited the Clinton campaign and the rest of the media" with its report.
In its criticism of the Times, Breitbart also highlighted a report from Forbes which detailed how the newspaper was able to avoid paying taxes itself in 2014.
Vocal Trump supporter and former New York City Mayor Rudy Giuliani contended Sunday that Trump is a "genius" if he found a "loophole" to avoid paying taxes.
Regardless of what — if any — legal action ensues, it seems as though the Times' top editor, Dean Baquet, is prepared. During a forum at Harvard University last month, Baquet remarked that he would risk jail time to publish Trump's tax returns.