PARKLAND, Fla. (TheBlaze/AP) -- Officials say a South Florida synagogue was vandalized on the eve of Jewish holiday Rosh Hashanah.
Local news organizations report that someone spray-painted expletives on the building of the Chabad of Parkland on Saturday. The person or people responsible also wrote graffiti that read "Free Palestine" on the synagogue's front sign and spray-painted the number "12" on the building, which is often used as a derogatory term for police.
Rabbi Shuey Biston calls the act a hate crime and says the graffiti was written to try to intimidate the Jewish community.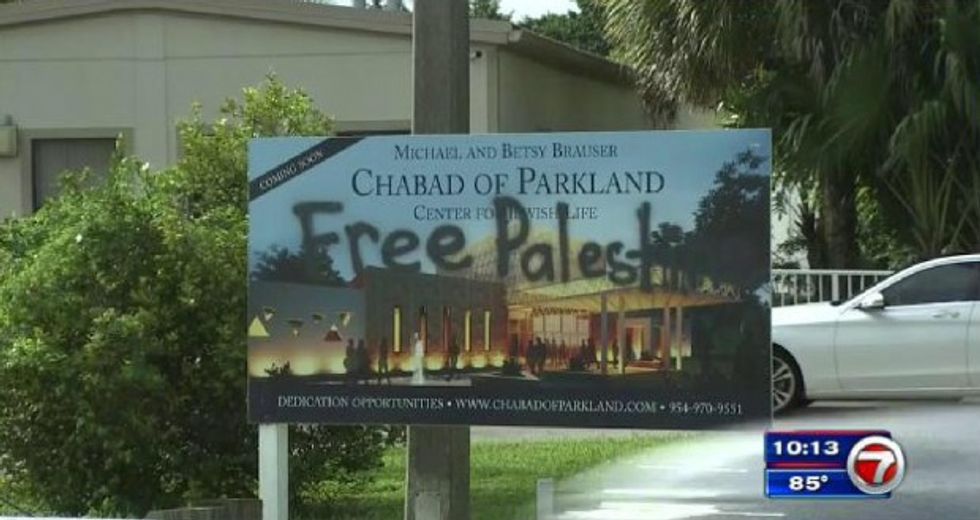 Image source: WSVN-TV
"This is the holiest time of the year. This is the Jewish New Year," Rabbi Mendy Gudnick told WSVN-TV," and so people are thinking about going to synagogue who don't usually come to pray, and it gives them a little pause."
A member of the vandalized synagogue said they believe the act was a "hate crime." The number "12," an anti-police reference, was also reportedly painted on the building. Synagogue members suggested the vandalism could have been the result of them hosting a police appreciation breakfast.
Parkland Mayor Michael Udine says graffiti with hateful language also was found in other parts of the city.
The Broward Sheriff's Office is investigating.
—
Follow the author of this story on Twitter and Facebook: