Once again, San Francisco 49ers quarterback Colin Kaepernick knelt as the national anthem played before his team took on the Dallas Cowboys in Santa Clara, California, Sunday — but it was a pre-game moment across the country that's now making headlines.
An image tweeted out Sunday shows a New England Patriots fan standing on a Kaepernick jersey as the "Star-Spangled Banner" blared throughout Gillette Stadium in Foxborough, Massachusetts, before the Patriots played the Buffalo Bills. By Sunday night, the photo had gone viral, garnering more than 2,000 retweets and more than 4,000 "likes" on Twitter.
The fan's decision to stand on Kaepernick's jersey during the national anthem was in all likelihood a response to the quarterback's refusal to stand for the song before games.
Guy in the stands at Patriots game during Anthem @barstoolsports pic.twitter.com/yQIAjJsjTP

— Joey P. (@JoeyPezzino11) October 2, 2016
Kaepernick wasn't alone in his protest that day. At Wembley Stadium in London, England, Indianapolis Colts defensive back Antonio Cromartie knelt while raising his fist in the air moments before his team went head-to-head with the Jacksonville Jaguars.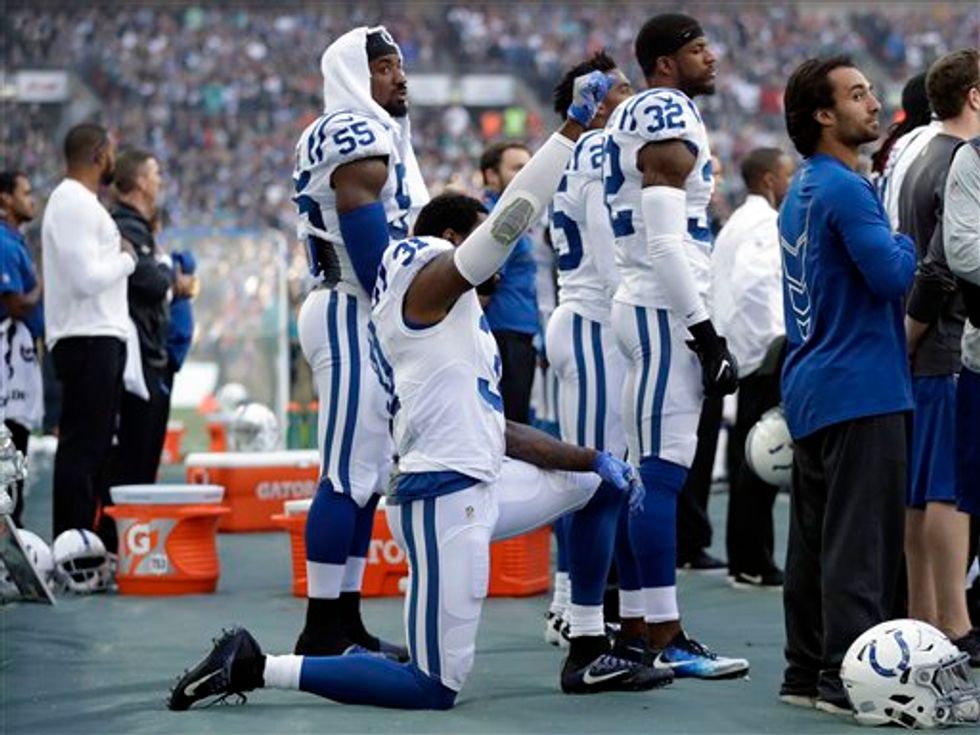 Indianapolis Colts cornerback Antonio Cromartie kneels down during the national anthem before the game between the Colts and the Jacksonville Jaguars at Wembley stadium in London, England, Sunday. (AP Photo/Matt Dunham)
Other forms of protest against Kaepernick took shape across the country, with one bar owner in Florida placing Kaepernick jersey decals in urinals while another bar owner in Virginia used the quarterback's jersey as a doormat.
(H/T: Independent Journal Review)
—
Follow the author of this story on Twitter and Facebook: