Republican presidential nominee Donald Trump seemed to suggest Monday that members of the military who struggle with mental health issues do so because they are not "strong" and "can't handle it."
During an address in Herndon, Virginia, to the military veterans group Retired American Warriors, Trump made the controversial comments about American service members and mental health, saying, "When you talk about the mental health problems, when people come back from war and combat and they see things that maybe a lot of folks in this room have seen many times over, and you're strong and you can handle it, but a lot of people can't handle it."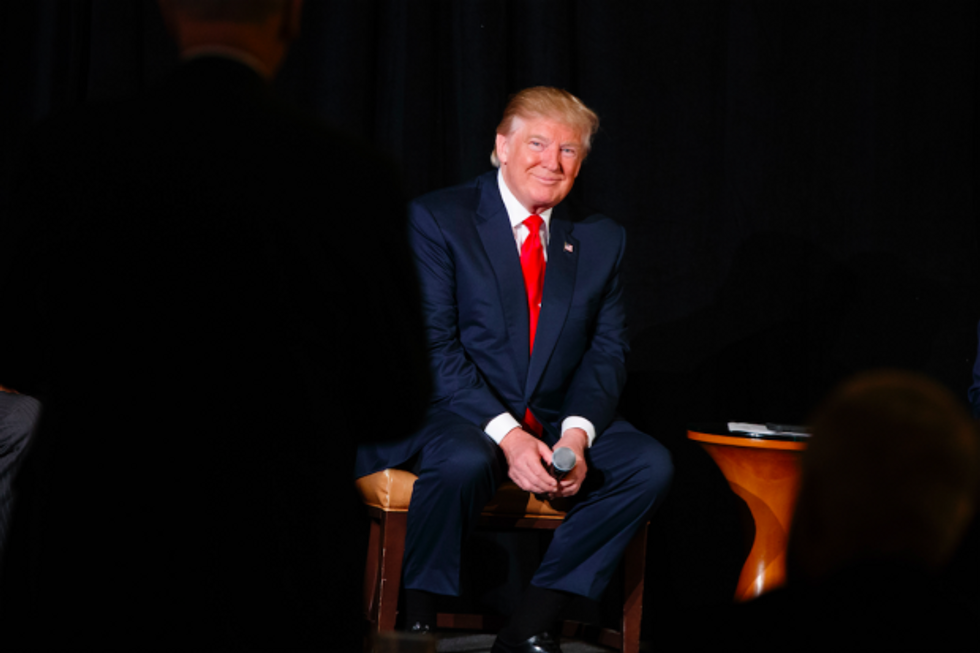 Republican presidential candidate Donald Trump listens to a question during a town hall with the Retired American Warriors in Herndon, Virginia, Monday. (AP Photo/ Evan Vucci)
"They see horror stories, they see events you couldn't see in a movie. Nobody would believe it," Trump continued.
Trump's comments came after he was asked by an audience member if he would "support and fund a more holistic approach to solve the problems" of suicide, PTSD and other mental health issues among veterans.
Trump answered in the affirmative and said mental and medical help for veterans continues to be one of the things he receives questions about the most on the campaign trail. He promised that "the whole mental health issue is going to be a very important issue" should he become president.
"So we're going to have a very robust level of performance having to do with mental health," the nominee said. "We are losing so many great people who could be taken care of if they had proper care."
Suicides among veterans has become an epidemic: Approximately 20 veterans per day commit suicide, according to the Military Times. In fact, more than 7,400 veterans committed suicide in 2014 alone, the latest year with data available.
And as the Washington Post noted, experts have been working to eradicate the stigma that comes with mental health issues — especially among U.S. military members who are expected to be seen as tough.
In response to heavy criticism, the Trump campaign was quick to blame the media for operating "as the propaganda arm of Hillary Clinton" and taking "Trump's words out of context in order to deceive voters and veterans."
"Mr. Trump was highlighting the challenges veterans face when returning home after serving their country," retired Lt. Gen. Michael Flynn, a Trump surrogate, said in a statement. "He has always respected the service and sacrifice of our military men and women — proposing reforms to Veteran Affairs to adequately address the various issues veterans face when they return home."
And the veteran who asked Trump the question told the Washington Examiner Monday afternoon that he thought it was "sickening" that Trump's comments were twisted to "pursue a political agenda."
Staff Sgt. Chad Robichaux said:
I took his comments to be thoughtful and understanding of the struggles many veterans have, and I believe he is committed to helping them. The nature of my question focused on a broken system that's failing so many of our veterans and, as president, would Mr. Trump take a more holistic approach to health care for veterans. I interpreted his answer to affirm that the system is broken and he would take the necessary steps to address it. After eight combat tours in Afghanistan I came home and was diagnosed with PTSD, and I struggled with it. Since my own recovery I've been privileged to help 1,100 veterans who have graduated from our program; none of whom have committed suicide since graduating. It's a very important issue to me, which is why I was thankful for the opportunity to ask Mr. Trump about it directly.
The Military Times pointed out that veteran advocates remained divided over whether Trump's comments were harmful.
"If we want to destigmatize PTSD, we need to get beyond strength and weakness," Sean Foertsch, an Afghanistan War veteran who works with wounded troops, told the outlet. "In context, it wasn't a terrible comment … but it's bad vocabulary."
But not everyone thought Trump's comments were taken out of context. Iraq War veteran Jon Soltz, chairman of the progressive VoteVets.org, told CNN that the Manhattan billionaire's statements were "not shocking" but "horrible" nonetheless.
"We're talking about a person, in Trump, who believes that POWs aren't real heroes, and that he's made sacrifices akin to Gold Star Families who lost their loved ones in war," Soltz told CNN. "The constant disrespect Donald Trump shows towards our veterans and service members is sickening and completely and totally disqualifying."
Paul Rieckhff, CEO of Iraq and Afghanistan Veterans of America, tweeted Monday afternoon that Trump's comment "perpetuates stigma" of mental health issues for veterans.
Yeah, this part is not helpful. "Being strong" and/or "being able to handle it" is the wrong message on PTSD/suicide and perpetuates stigma. https://t.co/Ev3rUuueeA

— Paul (PJ) Rieckhoff (@PaulRieckhoff) October 3, 2016
Rieckhff also told the Military Times that "every national leader has responsibility to use accurate and appropriate language when talking about mental health."
"Terms like 'killing yourself' or 'mental problems' and any suggestion that suicide only impacts the weak perpetuates stigma, can promote contagion and may discourage people from getting help," he said.
In a statement to ABC News, a VFW national spokesperson said:
It is true that not everyone can handle traumatic events, be it from war, bad car accidents, violent crime or even surviving a hurricane. Regarding veterans, we need to treat those who need help and research how two people experiencing the same time and place can be impacted so differently.
Monday wasn't the first time Trump has drawn ire from veterans and veteran advocates. Last year, he blasted Arizona Sen. John McCain (R), saying that the veteran was "only a war hero because he was captured."
"I like people that weren't captured," Trump said at the time.
Still, Trump was endorsed by almost 90 military veterans in an open letter praising the outspoken GOP nominee's "commitment to rebuild our military, to secure our borders, to defeat our Islamic supremacist adversaries and restore law and order domestically."
—
Follow Kaitlyn Schallhorn (@K_Schallhorn) on Twitter