After members of a college band knelt or simply didn't play their instruments during the national anthem on Saturday, the university is now assuring donors, parents and students that it won't happen again.
Members of the East Carolina University Marching Pirates were seen kneeling as they played the "Star-Spangled Banner" before the weekend matchup against the University of Central Florida. Meanwhile, other members of the band just didn't play at all, WTVD-TV reported.
However, the band was met with loud boos from the crowd once it was finished playing and when it came back out on the field during halftime.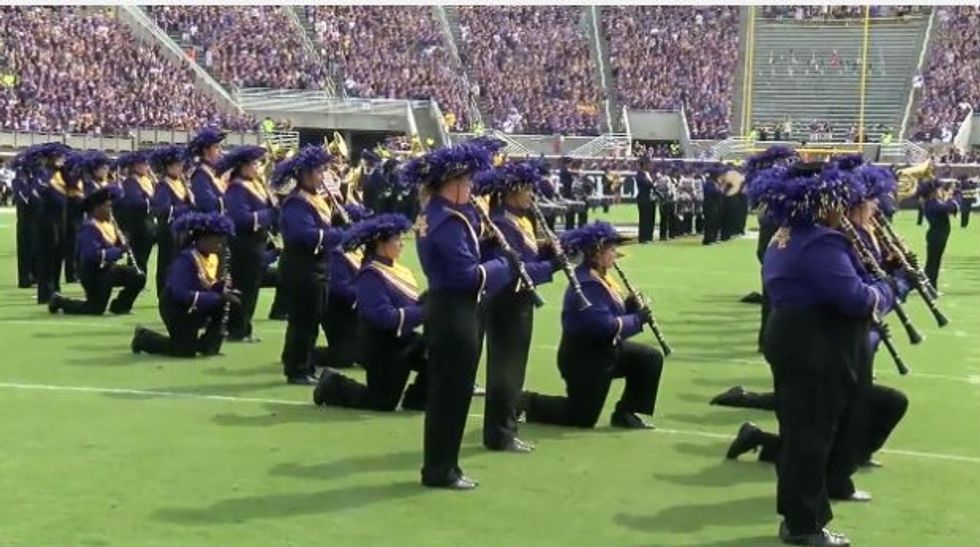 Image source: WTVD-TV
While ECU Chancellor Cecil Staton encouraged fans to respect others' views, other school officials didn't respond with as much compassion.
Director of Athletic Bands William Staub, director of the School of Music Chris Ulffers, and dean of the College of Fine Arts and Communication Dr. Chris Buddo issued a statement Monday, blasting the students' behavior and vowing that it won't happen again.
"College is about learning, and it is our expectation that the members of the Marching Pirates will learn from this experience and fulfill their responsibilities. While we affirm the right of all our students to express their opinions, protests of this nature by the Marching Pirates will not be tolerated moving forward," the statement read.
The incident is the latest in what has become a form of protest at venues across the country. NFL quarterback Colin Kaepernick in August sparked the wave of protests after he refused to stand for the national anthem before a game between the San Francisco 49ers and Green Bay Packers.
(H/T: WNCT-TV)
—

Follow the author of this story on Twitter and Facebook: