The two vice presidential nominees — Virginia Democratic Sen. Tim Kaine and Indiana Republican Gov. Mike Pence — will face off Tuesday night in 2016's lone vice presidential debate.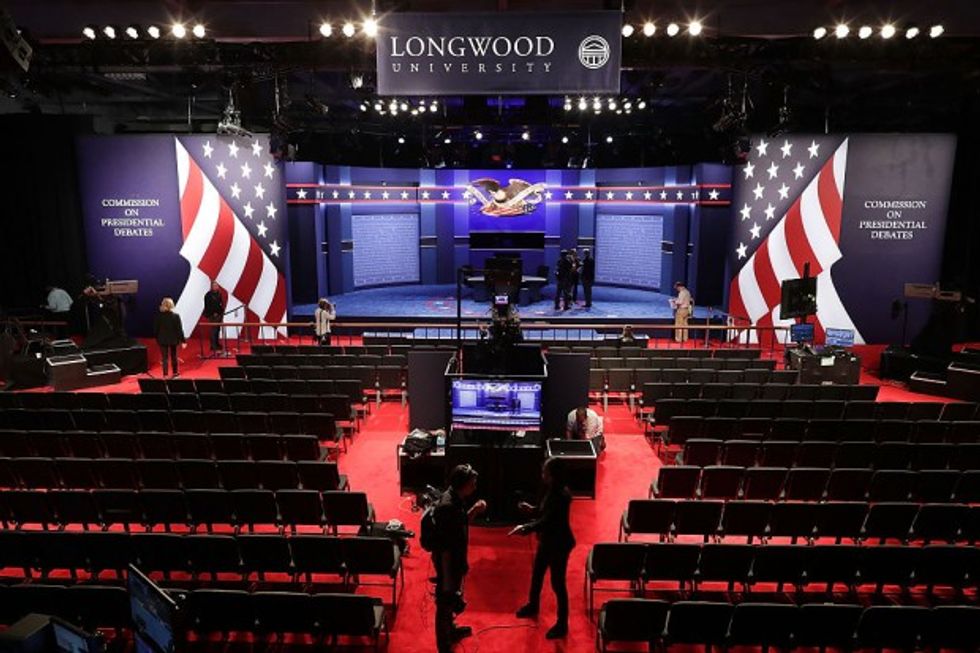 Last minute preparations are made inside Willett Hall before the vice presidential debate at Longwood University October 4, 2016 in Farmville, Virginia. Vice presidential nominees Republican Mike Pence and Democrat Tim Kaine will engage in their only debate during the 2016 election. (Chip Somodevilla/Getty Images)
The 90-minute debate will take place Tuesday at 9 p.m. EDT at Longwood University in Farmville, Virginia, and will be moderated by Elaine Quijano of CBS News.
According to the Commission on Presidential Debates, the vice presidential debate will be divided into nine segments, each segment lasting approximately 10 minutes. The moderator will ask an opening question, and each candidate will have two minutes to respond. Quijano will use any remaining time to moderate a "deeper discussion of the topic."
According to CBS News, Kaine, 58, spent Monday prepping in his hometown of Richmond, Virginia. He told CBS that his preparation was "intense," but he is "calm" heading into the debate.
CBS reported that Pence, 57, held a rally in Ashland, Virginia, Monday evening and that Wisconsin Gov. Scott Walker, a former GOP presidential candidate, helped Pence prepare by playing the part of Kaine.
Pence and Kaine are widely expected to be surrogates for their running mates rather than spending a great deal of time discussing their own records. As Politico's Glenn Thrush put it, the candidates are "two suburban dads who are about to stop playing nice."
One of the topics expected to come up during the debate is Republican presidential nominee Donald Trump's tax returns. The candidate has not publicly released his tax returns, and the New York Times recently reported that Trump may not have paid federal income taxes for 18 years after reporting a more than $900 million loss in 1995. Unlike his running mate, Pence did release his tax returns.
A Real Clear Politics average of polls found Democratic presidential nominee Hillary Clinton leading Trump heading into Tuesday's debate.
—
Follow the author of this story on Twitter and Facebook: