Virginia Sen. Tim Kaine, who was governor of the state at the time of the deadly shooting at Virginia Tech in 2007, said Tuesday he has figurative "scar tissue" as a result of gun violence.
"I'm a gun owner; I'm a strong Second Amendment supporter, but I've got a lot of scar tissue," Kaine said. "When I was governor of Virginia, there was a horrible shooting at Virginia Tech and we learned that, though that painful situation, that gaps in the background system should have been closed and it could have prevented that crime."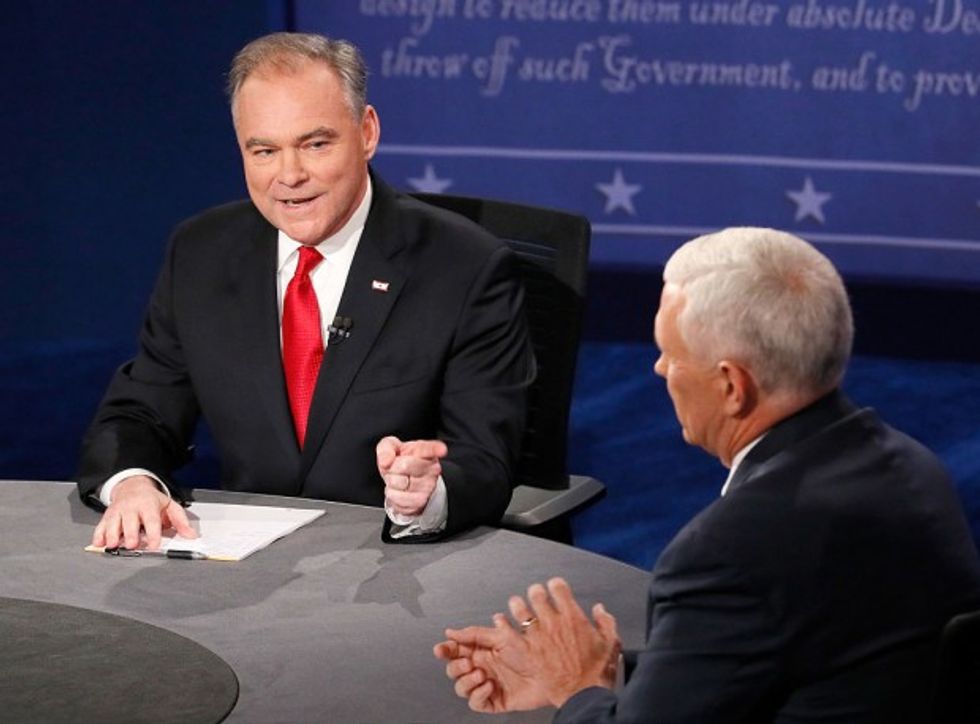 Andrew Gombert - Pool/Getty Images
While Kaine intended to make a point about the gun control laws he and Democratic presidential nominee Hillary Clinton would seek implement if they succeed in November, it was the "scar tissue" gaffe that earned the Virginia senator scorn on social media Tuesday night.
I can't possibly be the only #Hokie confused and a borderline mad at #TimKaine's "scar tissue" and VT references...right?

— Ashley (@Ashley)1475631557.0
Tim Kaine is awful chipper for a guy with so much scar tissue #VPDebate

— mattaroo (@mattaroo)1475631528.0
Wow, I wonder how Sen. Kaine could serve as a good VP with all that scar tissue he just bragged about. #HillarynKaineHealthIssues #VPDebate

— Ruth Yoder (@Ruth Yoder)1475631386.0
Did Kaine just say he has scar tissue from VA Tech shooting? I hope the fact checkers are on top of that. #VPDebate

— Napp Nazworth (@Napp Nazworth)1475631101.0
I'm not sure that a governor should refer to the "scar tissue" he has from a mass shooting.

— Jim Geraghty (@Jim Geraghty)1475631081.0
Unless that governor has, you know, actual, non-metaphorical physical scar tissue.

— Jim Geraghty (@Jim Geraghty)1475631146.0
'Scar tissue that I wish you saw...Sarcastic mister know it all'

— Margaret Sullivan (@Margaret Sullivan)1475631136.0
"Scar tissue" seems like an insensitive metaphor for a successful old white guy to use regarding police violence against Black people.

— Rosanne Scholl (@Rosanne Scholl)1475631212.0
It is important to note that Virginia Tech shooting survivor Lily Habtu, who was shot in the face during the rampage that left 32 people dead, was a guest Kaine invited to the vice presidential face-off, the New York Daily News reported.
In the years since the tragic shooting, Habtu has become a staunch advocate for stricter gun laws.
Kaine often talks about the massacre on the campaign trail, frequently telling rally-goers that the shooting still impacts him.
"It was the worst day of so many people's lives — and for the parents and the loved ones of those kids and professors — that pain never goes away," he recently said during a campaign stop in Florida.
See the senator's comments below:
—
Follow the author of this story on Twitter: