Everything Mark Zuckerberg does is the subject of attention and discussion. The Facebook entrepreneur has become one of the wealthiest and most influential people in America and has even been the subject of a blockbuster film based on the contentious litigation surrounding the founding of the social media giant and his role in it.
As the world comes to the realization of the immense power Facebook has to shape the modern news cycle, Zuckerberg's true personal beliefs have become increasingly opaque as he struggles to navigate the waters of public controversy in his role as the CEO of one of the most talked-about corporations in the world.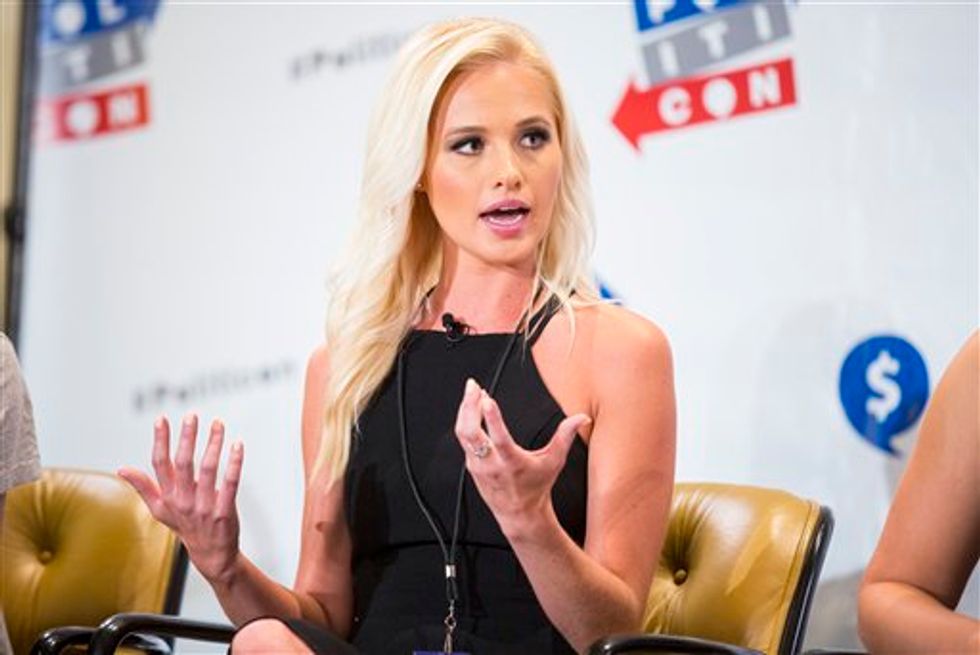 Tomi Lahren at Politicon 2016 at the Pasadena Convention Center in Pasadena, California, June 25. (Photo by Colin Young-Wolff/Invision/AP)
This opacity extends to the "likes" on his personal Facebook page, which have become increasingly bland. As The Ringer notes:
The vast majority of his "likes" are so bland they seem optimized to provoke a bored shrug. He likes his own dog and his own dad's dental practice page. He likes Oculus (Facebook owns Oculus) and Messenger (Facebook owns Messenger). Obviously, he likes Ender's Game. He likes McDonald's. He doesn't like to choose sides; Zuckerberg likes President Obama and Hillary Clinton, but he also likes Chris Christie and Marco Rubio. He likes Beyoncé and Taylor Swift and Katy Perry, Bill Gates and Steve Jobs. He likes John Mayer!
However, one "like" that stands out from the crowd is that he likes TheBlaze TV personality Tomi Lahren, who is the opposite of a "bored shrug" and who has never been known to not take a side before. As the Ringer notes, Zuckerberg's "like" for Lahren is not easily explained by the fact that Lahren has had Facebook videos that have gone "viral" because Zuckerberg is not usually a fan of "viral" Facebook videos:
One of her online videos (a rant against Colin Kaepernick) recently went Facebook-viral, with more than 65 million views. That might explain why Zuckerberg has taken an interest in her, although Zuckerberg didn't like Chewbacca Mom, and he doesn't have a history of liking other viral video producers. His other "liked" journalists are popular consumer/business tech reporters like Walt Mossberg and Nick Bilton, as well as Jose Antonio Vargas, who wrote that New Yorker profile — and who also criticized Lahren for comparing Black Lives Matter to the Ku Klux Klan. This is a break from form.
When reached for comment, Lahren told TheBlaze, "It's nice to know that one of the greatest innovators of our time appreciates my First Amendment rights. I rarely agree with Mr. Zuckerberg politically, but he's built an empire that has allowed me to reach millions. I like you too, Zuck!"