Outspoken conservative Milwaukee Sheriff David Clarke is blasting officials at a Connecticut college for rescinding their invitation to have him speak at the school about forensics.
The reason? The Wisconsin sheriff wrote that it's "because of my stance on Black Lives Matter" — widely known as a critical one.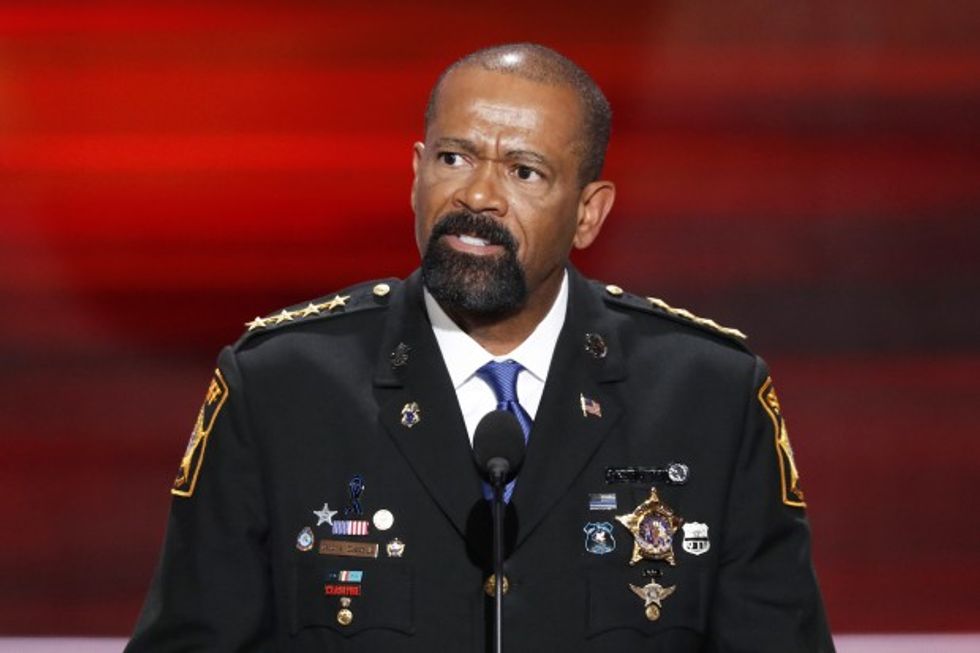 David Clarke, sheriff of Milwaukee County, Wisconsin, speaks during the opening day of the Republican National Convention in Cleveland on July 18. (AP Photo/J. Scott Applewhite)
"I've been overwhelmed by the response from students, alumni, and others who heard about my unfair treatment," Clarke noted Thursday. "A senior at the school, Brian Sharnick, even started a petition demanding that the school bring me in and apologize."
The University of New Haven posted a statement Wednesday acknowledging students and alumni are "upset that Sheriff David Clarke's invitation to speak at the Markle Symposium was rescinded." The school indicated only that "circumstances did not permit Sheriff Clarke's attendance."
Posting on his blog Thursday, Clarke was not happy:
Did you catch that? "Circumstances did not permit" me to come. That's the kind of shadowy language guilty people use … and believe me, I've seen many guilty people over the course of my 38 years of law enforcement.

When the University disinvited me — telling my assistant the reason was because of my stance against #BlackLIESMatter, I was okay with it. I was working this event into an already full schedule. But the cowardly official response from the school is just too much.
Clarke also called out the school's President Steven H. Kaplan: "I understand why you don't want people to know that a predominantly white college won't let a black man speak on campus because of your incredible support for minorities. That doesn't even pass the 'straight face test.'" He also told the school to "own" its decision rather than saying Clarke was a "victim of circumstances. At least have the courage of your convictions."
"If you think that the students, faculty, and alumni of your school will believe that 'circumstances' conspired to disinvite me — instead of you guys bowing the knee to political correctness — then you really might need to walk over to the forensics department," the sheriff added.
The University of New Haven added another Facebook post late Thursday walking back its assertion that Clarke's invitation was rescinded. The update insisted rather that an invitation was "explored but never officially extended."
The reason? The school said it was due to Clarke's requests related to the engagement — "first-class airfare, a presidential hotel suite, and transportation from the airport in a black SUV."
Those following the dust-up pounced on the school:
"Then why did you initially say that the invitation was rescinded?" Ana Frace commented. "If it was never officially extended, then how did you rescind it? Your choice of words doesn't make sense. If this is really the case, this statement is what should have been said first, not that an invitation had been given and then taken away."
Chuck Fick wasn't buying it, either: "Seeing I have personally petitioned and received approval for several thousands of dollars (and it was way more than what Sheriff Clarke was requesting) from different departments across campus just to cover a speaker fee for a person in the sports industry to come speak to students I say this is a cop-out excuse."