Usually, a politician doesn't have to face calls for impeachment until after he has been elected and assumed office. However, in the case of Republican presidential nominee Donald Trump, at least one law professor already believes that sufficient grounds exist to impeach him, should he be elected.
University of Utah professor Christopher L. Peterson has published an essay arguing that Trump's involvement with Trump University — which is the subject of at least three civil lawsuits and is also under investigation by the New York attorney general — constitutes sufficient grounds for impeachment if Trump assumes office. According to Peterson:
Although these consumer protection cases are civil proceedings, the underlying legal elements in several counts plaintiffs seek to prove run parallel to the legal elements of serious crimes under both state and federal law. Somehow in the cacophony of the 2016 presidential campaign, no legal academic has yet turned to the question of whether Trump's alleged behavior would, if proven, rise to the level of impeachable offenses under the impeachment clause of the United States Constitution.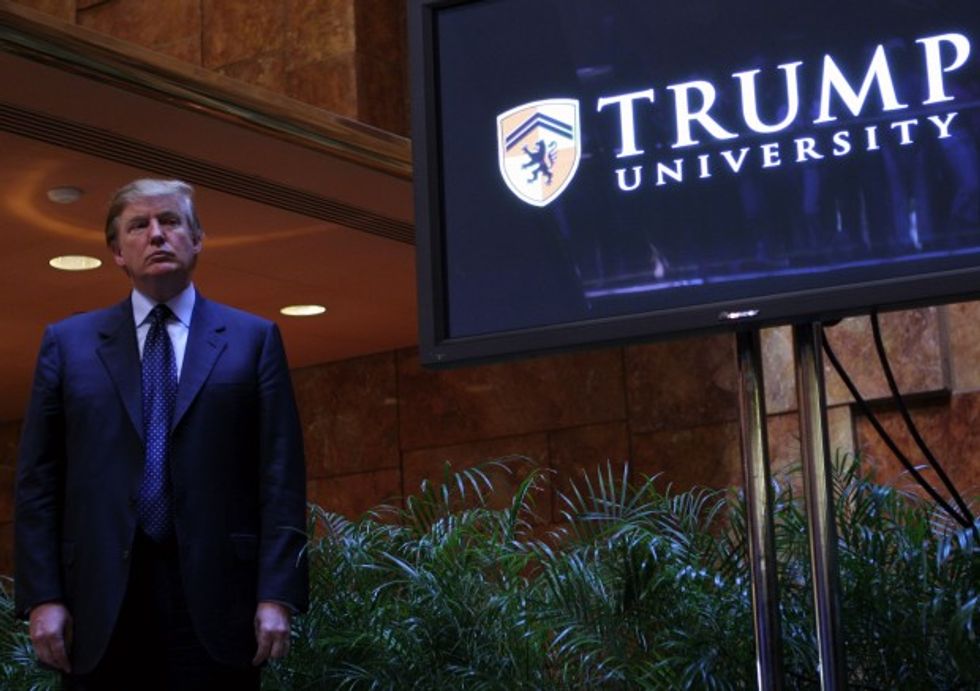 Real estate mogul Donald Trump holds a media conference announcing the establishment of Trump University on March 23, 2005. (Getty Images/Thos Robinson)
After considering the evidence against Trump, Peterson argued that Trump's conduct might constitute an impeachable offense, even though all of it occurred before Trump took office:
Some have also argued against a plain reading of the words "high crimes and misdemeanors" in favor of the view that only crimes relating to an official's public office are impeachable. Thus, during the Watergate scandal, the House Judiciary Committee voted against impeaching President Nixon on judicially untested allegations of tax fraud.

However, the most plain reading of the phrase "high Crimes and Misdemeanors" is simply that impeachable behavior "is only that which would subject an ordinary person to criminal indictment and prosecution."
Ultimately, Peterson concluded that "the breadth of this of the phrase inevitably leaves much to the wisdom and judgment of the House of Representatives and the Senate" and that Congress would be justified to impeach Trump on the basis of the facts revealed in the Trump University lawsuits.
Peterson likewise dismissed as immaterial the fact that Trump has not been criminally charged in connection with Trump University, noting that neither President nor President Bill Clinton were convicted of crimes prior to their impeachment, and pointing out that, in his view, the allegations in the Trump University lawsuit would constitute "fraud and racketeering," which are "legally recognized as serious felonies in all fifty states." The professor also noted that the information used to ultimately impeach Bill Clinton was uncovered as the result of discovery in a civil lawsuit.
No president has ever been impeached for conduct that allegedly occurred before he took office, and no member of Congress has yet suggested impeaching Donald Trump, if he wins the upcoming election. But if Trump emerges victorious on Nov. 9, at least some will argue he should be impeached before he even takes office.