During Sunday's debate, Democratic nominee Hillary Clinton promised that, as president, she wouldn't allow any person entry to the United States who "poses a risk to us."
The answer came during a segment about immigration, that included the controversial issue of Syrian refugees — an issue that Republicans and Democrats strongly disagree on.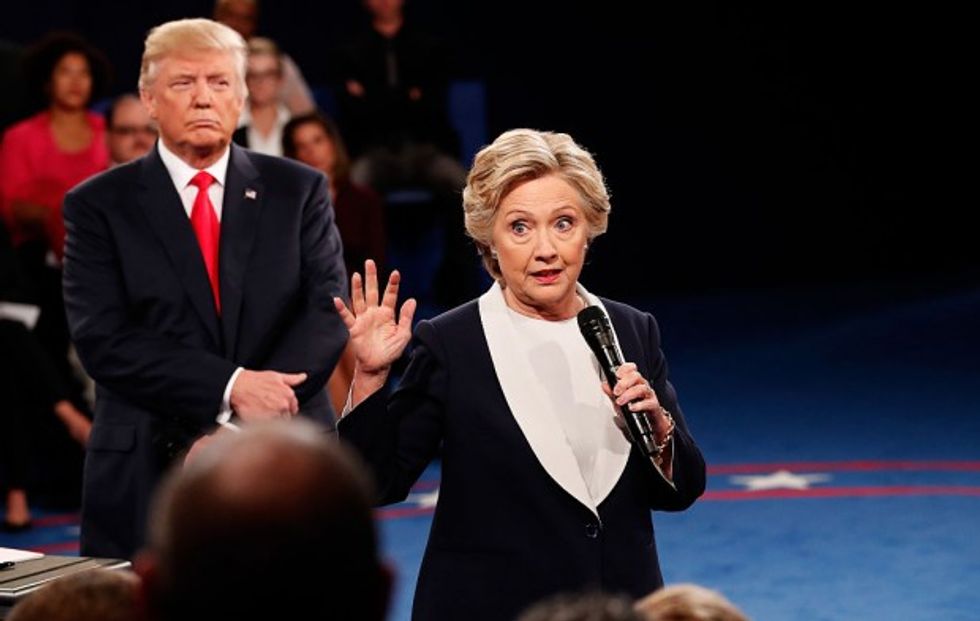 Getty Images/Rick Wilking-Pool
"I will not let anyone into our country that I think poses a risk to us," Clinton said. "But there are a lot of refugees, women and children — think of that picture that we all saw of that four-year-old boy with the blood on his forehead because he had bombed by the Russian and Syrian air forces."
However, Clinton has said in the past that as president she would allow a 550 percent increase in the number of Syrian refugees that the U.S. accepts, from 10,000 to 65,000.
"I would like to see us move from what is a good start with 10,000 to 65,000 and begin immediately to put into place the mechanisms for vetting the people that we would take in," Clinton said on CBS' "Face the Nation" last September.
Trump, however, believes that allowing any number of Muslim refugees entry into the U.S. is a "trojan horse," given the fact that the majority of the world's terrorism is currently rooted in Islam and the Middle East.
Watch:
Clinton on immigration: "I will not let anyone into our country that I think poses a risk to us" https://t.co/fRONnNsSvp

— The Lead CNN (@TheLeadCNN) October 10, 2016
—
Follow the author of this story on Twitter and Facebook:
[facebook //www.facebook.com/plugins/like.php?href=