Within the first 30 minutes of the second presidential debate Sunday night, the gloves were off.
Donald Trump said Sen. Bernie Sanders, a one-time contender for the Democratic presidential nomination, "signed on with the devil" when he chose to throw his support behind Hillary Clinton.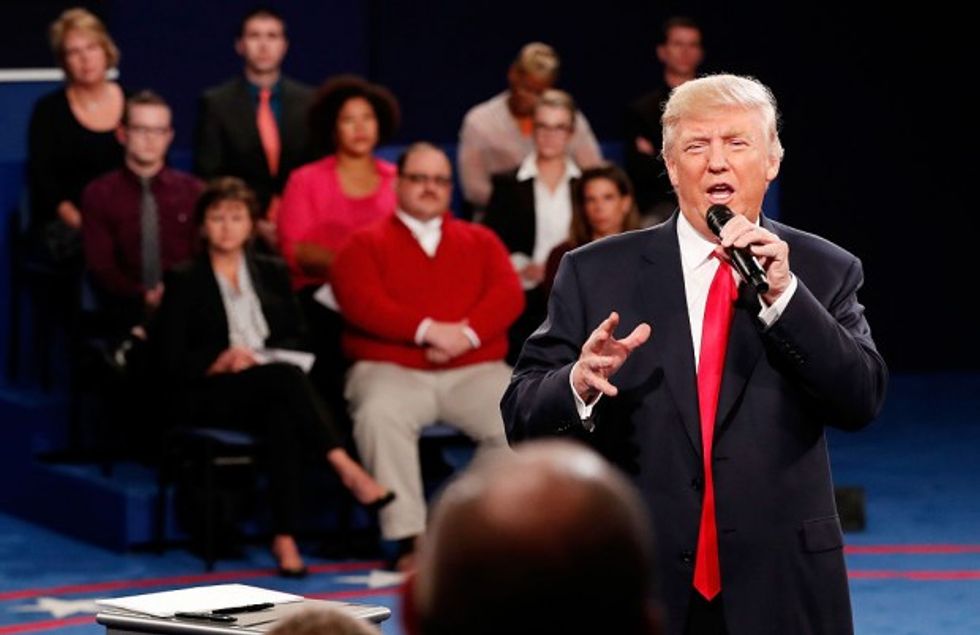 Rick Wilking-Pool/Getty Images
"Bernie Sanders, between super-delegates and [then-Democratic National Committee chair] Debbie Wasserman Schultz, he never had a chance," Trump told Clinton during the town hall debate. "I was so surprised to see him sign on with the devil."
The GOP presidential nominee's comments were in reference to a release over the summer of internal DNC emails by WikiLeaks that suggested the committee and Wasserman Schultz worked to aid Clinton's campaign during the primary battle against Sanders.
In fact, one email exchange even suggested bringing up Sanders' religious background as a way to diminish his campaign strength.
After delivering the bold remarks Sunday night, Trump pivoted toward Clinton's use of a private email server during her tenure as secretary of state — something he said she should be "apologizing for."
"And I'll tell you what," Trump said. "I didn't think I'd say this, but I'm going to say it and I hate to say it. But, if I win, I am going to instruct my attorney general to get a special prosecutor to look into your situation."
Watch the exchange below:
—