New Jersey Gov. Chris Christie (R) is still sticking with Donald Trump despite the "indefensible" comments the Republican presidential nominee made about women in 2005.
Christie slammed Trump's self-described treatment women, which was exposed Friday in audio published by the Washington Post, as "indefensible" during a New Jersey radio program Tuesday. However, while the onetime GOP presidential candidate said Trump's apologies have not been "enough," he will still support the Manhattan businessman.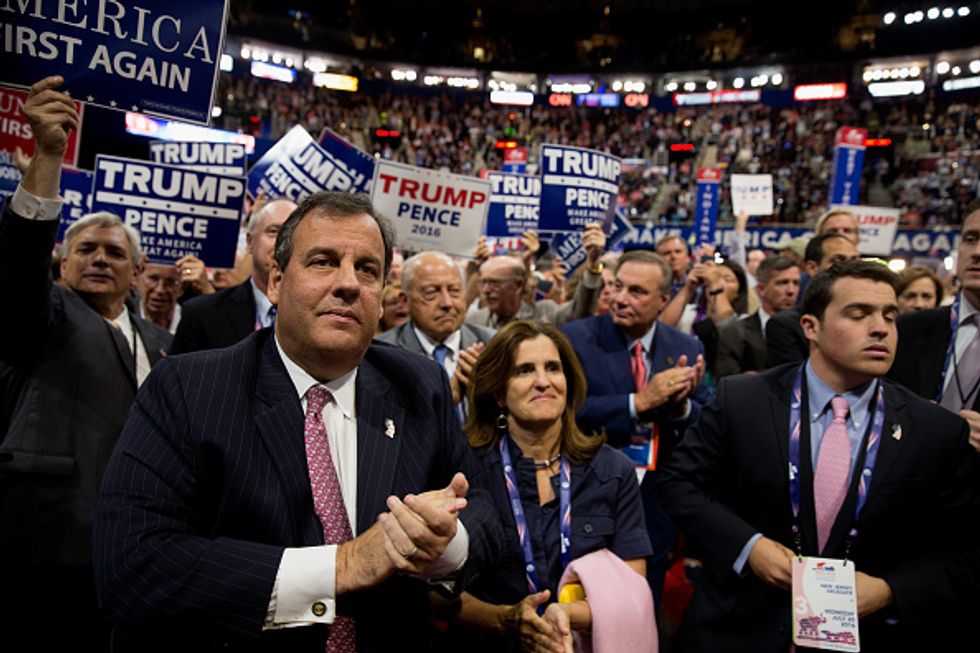 New Jersey Gov. Chris Christie (R) watchs on the third day of the Republican National Convention. (Getty Images/Tasos Katopodis)
"On the video itself, let's be really clear. It is completely indefensible, and I won't defend it and haven't defended it," Christie said on "Boomer & Carton." "That kind of talk and conversation, even in private, is just unacceptable."
Christie revealed that he "made it very clear" to Trump that he should be "contrite and apologetic" as "this is stuff that you just can't be involved in and shouldn't even be thinking."
The governor also said that he didn't think Trump's apologies have been sufficient in the wake of the leaded audio.
"I would have done it much differently," Christie said, adding that he does believe Trump to be genuinely apologetic and embarrassed. "He should have been much more direct and much more focused on just saying 'I'm sorry' and only 'I'm sorry.'"
When asked if his support of Trump ever wavered, Christie said he has "certainly" had to "think about it" but concluded there are "bigger issues" at stake in the election. He added that while he doesn't think the video should be immaterial to voters, it shouldn't be the only defining factor.
"Obviously, I was disappointed by what happened and disappointed in some respect to the response initially, but I'm still supporting him," Christie said. "Anybody who hears that video was disturbed by it and offended by it as they should be."
—
Follow Kaitlyn Schallhorn (@K_Schallhorn) on Twitter