GLENDALE, Ariz. (TheBlaze/AP) — Tim Tebow comforted a fan who was having a seizure, praying and talking college football with the man after the former NFL quarterback played his first baseball game in the Arizona Fall League.
The Phoenix Fire Department said it responded to a call about a man in his 40s having a seizure Tuesday at Camelback Ranch, the spring training home to two major league teams.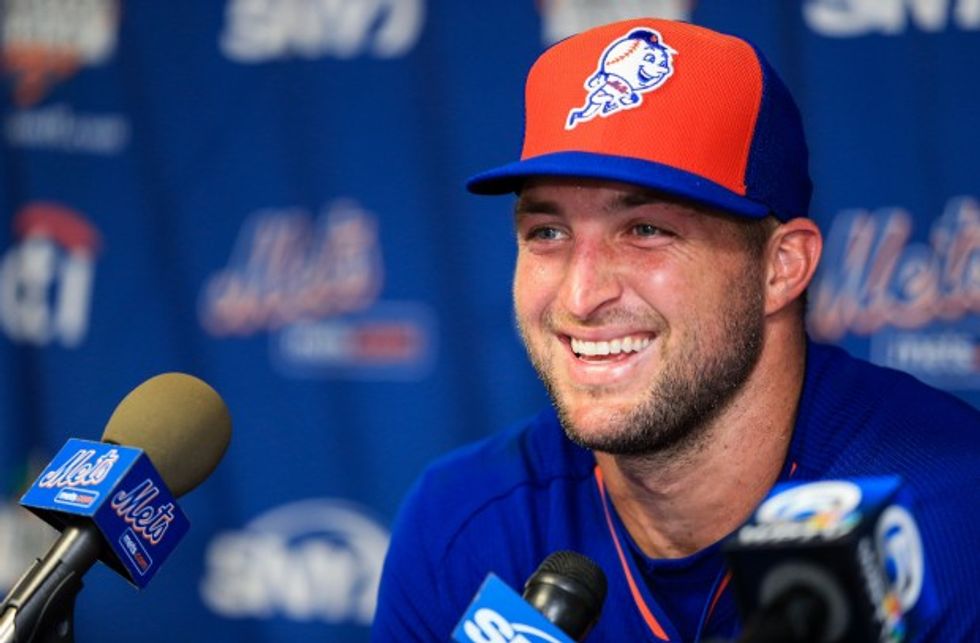 Mets minor leaguer Tim Tebow (Rob Foldy/Getty Images)
Tebow stayed with the fan for 15 to 20 minutes until paramedics took him from the stadium.
Daniel Kelly, a Tebow fan from nearby Casa Grande, said he met the ill spectator early in the game. Kelly was getting a baseball autographed by Tebow when the seizure began.
"He's just shaking violently," Kelly told The Associated Press by phone. "We're like, 'Get a paramedic! Get a paramedic!'"
Kelly said he and his wife, Samantha, began to pray. Kelly then looked up to see that Tebow was also praying while placing a hand on the fan's leg.
Kelly said the fan appeared unconscious for about 30 seconds before coming to with a coughing fit. Officials from the stadium tended to him while awaiting paramedics.
The man shared with Tebow that he rooted for Georgia — an SEC rival of Tebow's at Florida — and Tebow autographed one of his wristbands and gave it to the fan before he was taken away.
"An amazing moment," Kelly said. "It was a miracle moment that happened there."
Kelly, celebrating his 43rd birthday at the game and wearing a Mets Tebow jersey, posted video of Tebow waiting with the fan on his Twitter page. Kelly said it was near 100 degrees at the stadium and that the fan was with him in the sun for most of the game.
My friend had a seizure at Mets game and Tebow prayed for him and stayed with him until paramedics arrived #Mets #MLB #ESPN #Tebow pic.twitter.com/eVMP8iZ7b4

— Whatever it Takes (@danielkellybook) October 11, 2016
Tebow, recently signed by the New York Mets to a minor league contract, went 0 for 3 and also ran into an outfield wall chasing a flyball for the Scottsdale Scorpions.
The Phoenix Fire Department said the man was transported to an emergency room. No more details were provided on his condition.
The minor leaguer's kind act quickly gained traction on Twitter, where several praised him for the move. One reporter who was at the scene even called it "a miracle."
Tebow signing autographs. Fan has what looks like seizure. Not moving. Tebow puts hand on him and says a prayer. Man breathes. WOW.

— Kari Van Horn (@KariVanHorn) October 11, 2016
Heading back to the station but I have video of it all. I just witnessed a MIRACLE. #Tebow

— Kari Van Horn (@KariVanHorn) October 11, 2016
Tim Tebow an amazing individual. Tends to a man who had a seizure pic.twitter.com/ttYrQiqePh

— Christian Byrnes (@ByrnesC10) October 11, 2016
@AdamRubinESPN refreshing today to see the media cover the actions of people with good in their heart

— Mike Vitale (@mvitale24) October 11, 2016
This won't get a lot of attention.

Tim Tebow laid hand on man who had a seizure and prayed. The man began to breathe again. Power of faith. pic.twitter.com/WwloJtCdmU

— Andrew Livingston (@drewlivingstud) October 12, 2016