Four men have been arrested on felony assault charges in connection with the brutal beating of an Alabama high school student late last month that police say may have been racially motivated.
Quartez Lamar Walker, 20, was charged with first-degree assault and held on a bond of $20,000 Tuesday night, the Daily Home reported, while Bobby Ronchea Brown, 19; La Noah Grant Ealy Jr., 18; and Daveon Shamareya Nix, 20, were charged with second-degree assault and held on bonds of $15,000 each.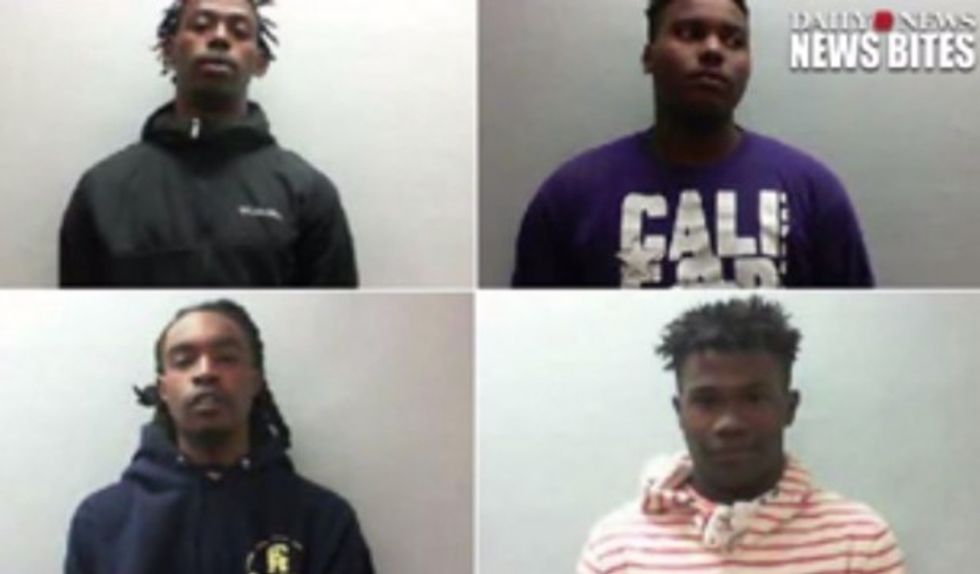 Clockwise from top: Bobby Ronchea Brown, La Noah Grant Ealy Jr., Quartez Lamar Walker and Daveon Shamareya Nix. (Image source: New York Daily News)
Nix is the son of Sylacauga District 2 City Councilwoman-elect Tiffany Nix, the Daily Home added.
Brian Ogle, a 17-year-old Sylacauga High School student, was left with a fractured skull and bleeding from the brain over the 10 p.m. Sept. 30 beating that took place in a parking lot after his school's homecoming football game, WBRC-TV reported.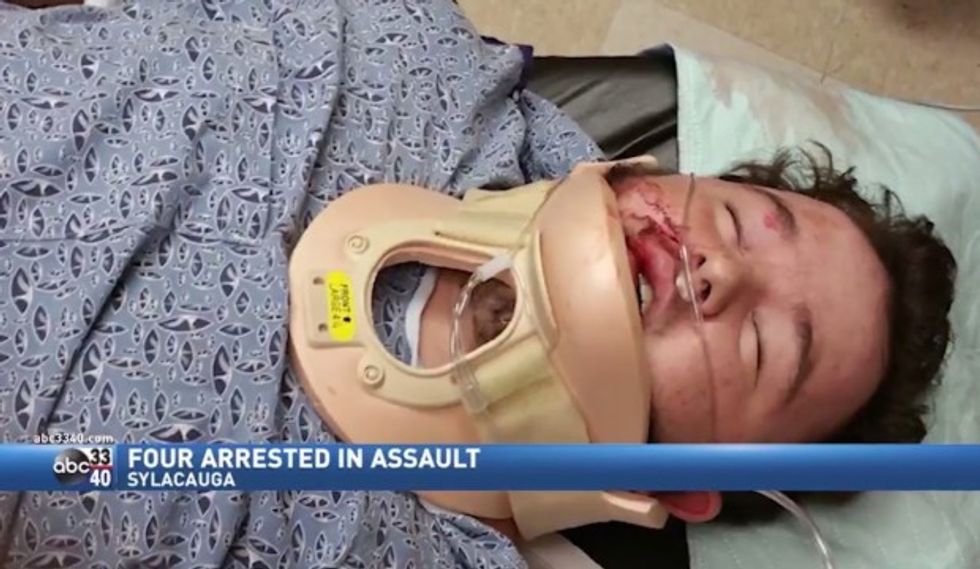 Brian Ogle (Image source: WIAT-TV)
Sylacauga Police Chief Kelley Johnson said Ogle may have gotten into an argument at the high school over Black Lives Matter prior to the incident. Ogle's mom, Brandi Allen, said the exchange carried over to Facebook where her son received threatening messages after he "made a statement that he backs the blue."
"My son took it to the principal at Sylacauga High School and I commend him for that. He showed her the threats that were being made to him, but she told him there was nothing she could do. I'm appalled," Allen told WBRC, adding, "They have a job to do it at school and they failed to do it."
"It seemed to be a planned incident," Johnson said. "They planned it, this kid was singled out for some reason."
Talladega County District Attorney Steve Giddens told the Daily Home that Walker was facing the more serious charge because he believed evidence shows Walker was the only one of four who was armed. Giddens added that he believed Walker used a handgun to strike Ogle. The other three are accused of causing serious physical injury without a weapon, the paper said. All four are former Sylacauga High School students.
Giddens on Wednesday told told AL.com that the four could face different charges once their cases are presented to a grand jury.
Allen told AL.com she's happy about the arrests but not about the charges, which she said don't have enough teeth: "They should have been charged with attempted murder, by all means. They'll probably be out on bail tonight."
She added that her son has made progress in rehab but he's still in pain from fluid on the brain.
"He's already done more than the doctors thought he would at this point," Allen told the outlet, "and we couldn't be more thankful for that."
As for Councilwoman-elect Nix, whom the Daily Home said is the mother of one of the arrested, she spoke to the paper last week about a number of subjects, including the Ogle assault — and said children mimic their parents.
"If we're upholding them in their wrongdoings, then we are as much to blame as they are," she told the Daily Home. "Let's lead by example, let's be kind to one another, let's lend a hand to our neighbors no matter what color they are, let's stand together and show our children that we love them enough to put our petty differences aside."
"People, it is not about us, it's about them. We live our lives to make this world a better place," Nix continued. "I really believe with prayer, unity and hard work, we can end what is going on in our city."
Nix declined to comment to the Daily Home when reached Tuesday night.