When Shane Cates walked into Going's Barbeque & Steak Co. with a group of fellow police officers several days ago, the reception they got from workers at the Crosby, Texas, restaurant was quite the unpleasant surprise.
Cates, a deputy constable, wrote on Facebook that he "noticed some of the other customers looking around at us and then realized there was music playing behind the counter where the cooks are. The music got louder is how we noticed it."
The song? "F*** tha Police" by the rap group N.W.A., the Dallas Morning News reported.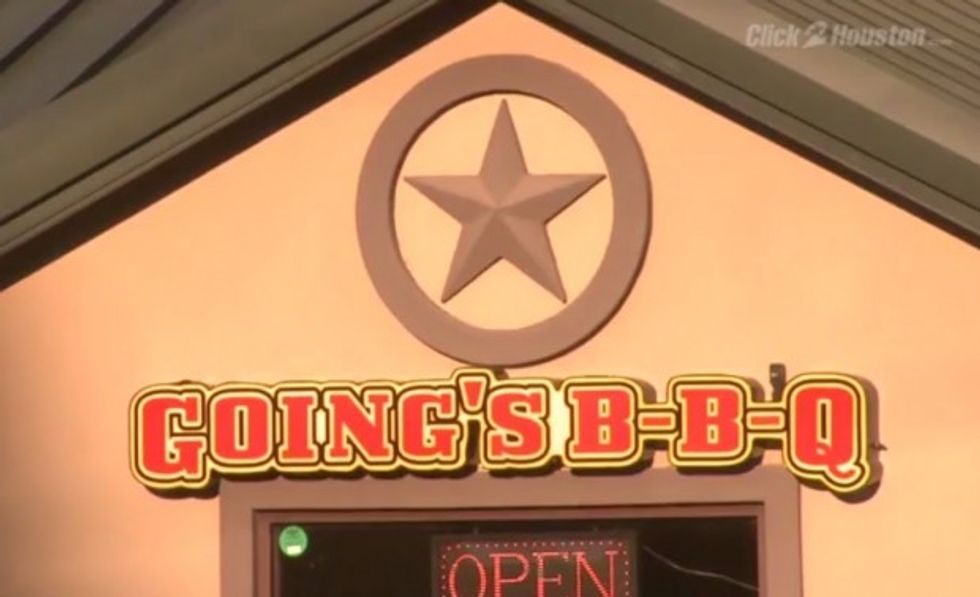 Image source: KPRC-TV
"I was completely shocked and thought surely no one was doing that as a dig on cops," Cates continued. "Well, I was shocked again. ... The guy washing dishes was singing the song and pointing out towards the eating area. He turned and noticed me standing there and started laughing."
Cates initially didn't like the restaurant manager's response after talking with him about the incident, which led him to post about it on Facebook. But it turns out, Cates later wrote, that he and the manager had a language barrier and a misunderstanding — because two of the restaurant workers involved were fired, KPRC-TV reported.
One of the fired workers issued an apology but declined to discuss the matter further with KPRC.
Going's BBQ issued an apology on Facebook, and one of the owners told the Morning News the restaurant would have a "police eat free" day.
"This was a huge hit to the image we've worked to establish," Rigoberto Ruiz told the paper. "This is not us, and this is not what we abide by."
Others were livid after hearing about the incident.
"It's just something you don't do," Bonnie Quinn told KPRC. "I just couldn't believe it." Quinn told the station she read the post while putting gas in her car: "I just blew a gasket."
But Cates — who deleted his original post Tuesday night, the Morning News reported — wrote in his follow-up Facebook post that he's heartened by the restaurant's response.
"I walked away from this meeting not only proud to know that these people do support law enforcement but also confident they will never allow something like this to happen again," he wrote.