"We're going to turn him into Bill Cosby," Steve Bannon, Donald Trump's campaign CEO, said Wednesday of former President Bill Clinton.
The former Breitbart-executive-turned-campaign-operative made it clear how Team Trump plans to handle the multiple allegations of sexual misconduct leveled against the Republican presidential nominee: Launch a scorched-earth, no-holds-barred war.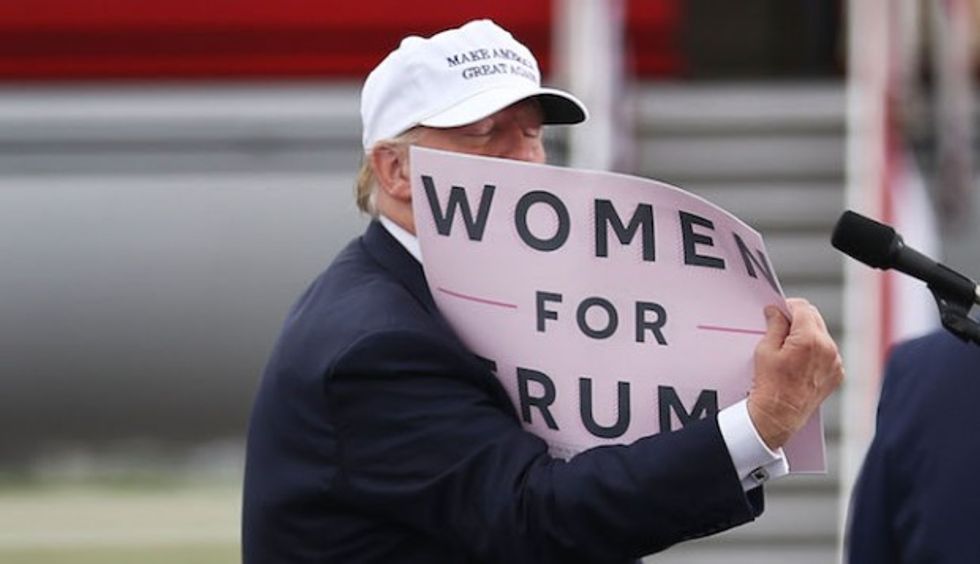 Donald Trump (Joe Raedle/Getty Images)
So what does Cosby have to do with anything? Bannon reportedly said the campaign plans to draw comparisons between Clinton, who has been accused by several women of sexual misconduct, and Cosby, who has been charged with sexual assault and is scheduled to go to trial next year.
And, of course, Bannon said they will focus on Democratic presidential nominee Hillary Clinton, too.
"She's led a program of victim intimidation," he told campaign staffers, two advisors who were present reported to Bloomberg. "This has nothing to do with consensual sexual affairs and infidelities. This is Bill."
"We're going to turn him into Bill Cosby. He's a violent sexual predator who physically abuses women who he assaults," he continued. "And she takes the lead on the intimidation of the victims."
News of the plan comes the same day two women came forward alleging to be victims of unwanted sexual advances by Trump and yet another video from the 1990s shows the billionaire businessman telling a young girl he will be dating her "in 10 years."
It appears the latest campaign tactic is already underway. Just before the second presidential debate Sunday night, Trump held a press conference with Juanita Broaddrick, Paula Jones and Kathleen Wiley — three women who have accused Bill Clinton of sexual misconduct. The campaign invited the women to sit toward the front of the debate hall afterward.
The meeting came two days after 2005 video dropped showing Trump telling former "Access Hollywood" host Billy Bush he can "do anything" to women because he's famous, including "grab them by the p***y."
This presidential race has undoubtably been dirty, but it's going to get even dirtier, according to one Trump advisor, who admitted "we're gonna go buck wild" between now and Election Day.
The goal isn't necessarily addition, though. The Trump campaign hopes it can successfully soil Bill Clinton's reputation so millennial women become unable to support the former secretary of state in November, and advisors are promising more stories and more accusers to help.
"Women are coming to us who have been groped or sexually abused by Bill Clinton," a senior advisor said.
Buckle up, America.