Hillary Clinton submitted written answers Thursday under penalty of perjury in a lawsuit brought by conservative watchdog group Judicial Watch about her use of a private email server during her tenure as secretary of state.
In the Democratic presidential nominee's answers to the group's 25 questions, Clinton's legal team wrote 20 times that the former secretary of state didn't recall the requested information. They objected to the line of questioning several times, too.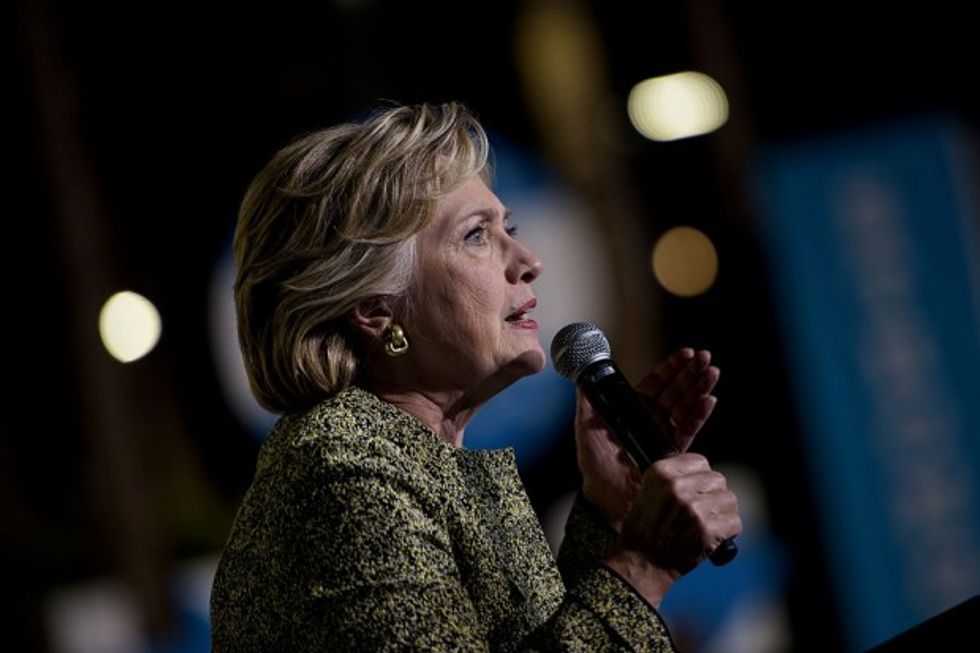 Donald Trump (BRENDAN SMIALOWSKI/AFP/Getty Images)
One of those 20 times was when her lawyers answered a Judicial Watch question about the lawfulness of her email server:
Secretary Clinton states that she does not recall being advised, cautioned, or warned, she does not recall that it was ever suggested to her, and she does not recall participating in any communication, conversation, or meeting in which it was discussed that her use of a clintonemail.com e-mail account to conduct official State Department business conflicted with or violated federal record keeping laws.
Clinton stuck with her public reasoning for using the personal account — for "convenience" — and offered no new information on the decision because "she does not recall."
"Secretary Clinton states that she does not recall considering factors other than convenience in deciding to use a personal e-mail account to conduct official State Department business," her attorneys wrote.
The candidate's email practices while she was at the State Department have been a hot topic this election cycle. One of the main gripes Republicans have had with the server is they fear it could have been a purposeful decision on Clinton's part so she could evade Freedom of Information Act requests.
Clinton, of course, "does not recall whether she had a specific expectation that the State Department would receive FOIA requests for or concerning her e-mail."
"She understood that, because her practice was to e-mail State Department staff on their state.gov accounts, her email was being captured in the State Department's record keeping systems," her legal team elaborated.
The presidential hopeful did, however, recall a few incidences Judicial Watch asked about. One question was in reference to a Nov. 13, 2010, email in which Clinton wrote to Huma Abedin, her senior aide, "Let's get a separate address or device."
"Secretary Clinton recalls that her November 13, 2010 e-mail exchange with Huma Abedin attached as Exhibit B to Plaintiff's Interrogatories was triggered by a problem with the State Department's telephone system," Clinton's lawyers wrote. "When Secretary Clinton wrote, 'This is not a good system,' she was referring to the way in which the State Department would notify her of telephone calls."
Though, the attorneys wrote, Clinton did not recall exactly what she meant by "address or device," the former secretary of state "was willing to use a State Department e-mail account or device if it would resolve the problems with receiving telephone calls, so long as her personal e-mails with family and friends would not be accessible to the State Department."
Instead of forcing Clinton to use a government-issued email account, the State Department resolved the issue by other means, the lawyers noted.
See all of Clinton's answers below: