As Election Day looms, a tale of two Liberty Universities has emerged.
It is no secret that Jerry Falwell, Jr., president of Liberty University, has been an unabashed supporter of Donald Trump since the Republican primaries. While his affection for the billionaire businessman has certainly sent attention his way, it has also earned Falwell the scorn of students from the university he leads.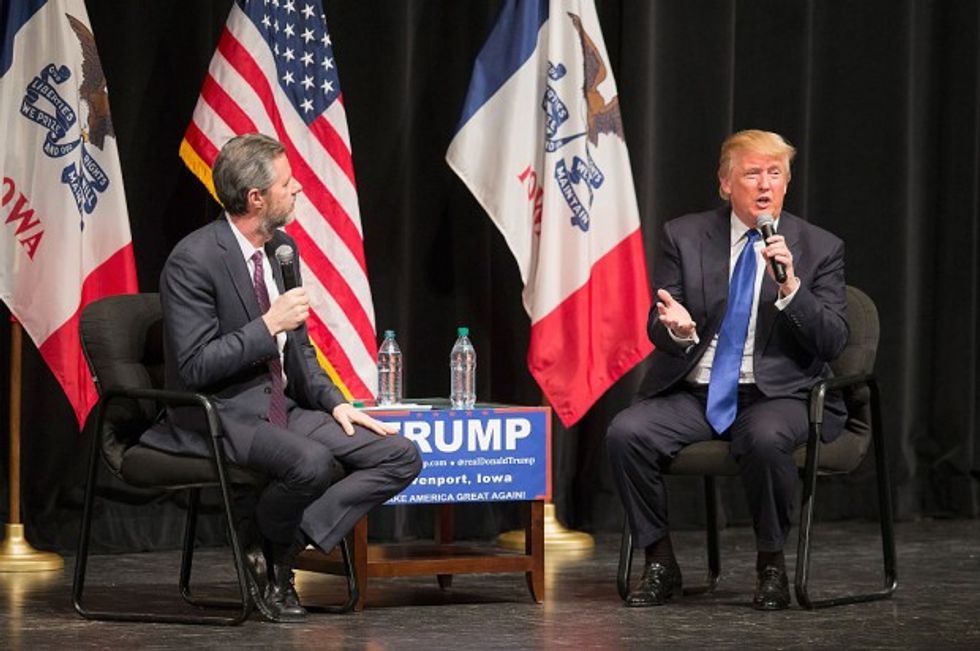 Jerry Falwell and Donald Trump (Scott Olson/Getty Images)
Some students have started a "Liberty United Against Trump" petition, signaling to the watching world that, while their school's leader may be in the GOP presidential nominee's corner, they are not. In addition, Ben Howe, a prominent Never-Trumper, Liberty graduate, and son of a former Liberty professor, called on Falwell to resign Thursday in a scathing editorial.
But amid all the press coverage the backlash against Falwell is getting, the university's student body president wants to make one thing clear: Most Liberty students actually agree with Falwell's Trump endorsement.
"Contrary to what the media is reporting, the majority of students at Liberty University agree with President Falwell and respect his decision to support Donald Trump," senior Jack Heaphy wrote in a letter obtained by TheBlaze. "They are not blindly following President Falwell, but rather have a shared understanding of the danger a Hillary Clinton presidency represents and what it could mean for the Christian freedoms we hold dearly."
Asked how he can be sure so many Liberty students will vote for Trump in November, given how poorly the real estate mogul performed in the school's district during the primary, Heaphy told TheBlaze that an "overwhelmingly large number of students identify as Republicans" and will vote for Trump for the sole purpose of blocking Clinton, the Democratic nominee, from becoming president.
For many, though, that claim is debatable.
In the letter, Heaphy acknowledges that, for many students, they are not necessarily voting in support of Trump but voting for him because of their opposition to Clinton. According to Heaphy, another Clinton administration could mean "further decline in the social and moral fabric of our nation."
Ironically, it is questions about Trump's "moral fabric" that have kept many evangelicals from committing to vote for the brash billionaire next month. But Heaphy, echoing Falwell's defense of Trump, said everyone "has sinned and fallen short of the glory of God, so we cannot be looking for perfection."
Falwell has noted on multiple occasions that he is voting not for a pastor, but a commander in chief.
"While I vehemently disagree with many of the things Trump has said and done, I also realize that Hillary Clinton is no better," Heaphy told TheBlaze. "In reality, she is the most morally corrupt candidate in U.S. history and would stand against many of the principles evangelicals hold dearly."
Heaphy, who voted for Florida Sen. Marco Rubio in the Republican primary, went on to say that, while Trump's words are "offensive," it is Clinton's actions, which he asserts "have compromised the safety of our nation and have led to the deaths of Americans," that make her an unviable candidate.
Therefore, in his letter, Heaphy offered a full-throated endorsement of Falwell and Trump, adding that he is "trusting in the Lord" for the outcome on Election Day.
This petition — and Heaphy's response — follow a string of allegations by women claiming to have been sexually assaulted by Trump over the years. The charges against the candidate surfaced after a 2005 video showing Trump making lewd comments about women was published ahead of the second presidential debate, where the Republican standard-bearer denied ever acting on the offensive comments he made at the time.
Falwell, for his part, seemed mostly disinterested in whether his students support his endorsement of Trump or not. In a statement to the Washington Post Thursday afternoon, Falwell said he is "proud" of those students "speaking their minds."
"I am not 'touring the country' or associating Liberty University with any candidate," Falwell said of the petition against him, adding, "[T]his student statement seems to ignore the teachings of Jesus not to judge others, but they are young and still learning."
To date, the petition against Trump has garnered more than 1,300 signatures.
See Heaphy's full statement below:
Liberty student body president @JackHeaphy: "The majority of students at Liberty University agree" with Falwell's Trump endorsement pic.twitter.com/YmuX8Ao3Hi

— Tré Goins-Phillips (@tregp) October 13, 2016