Almost half of Republican presidential nominee Donald Trump's supporters view Russia as a nation friendly to the United States, according to a new Politico/Morning Consult poll.
Forty-nine percent of Trump supporters see Russia as either an ally or a friendly nation, though only 24 percent reported a favorable view of the nation. Conversely, only 19 percent of Democratic presidential nominee Hillary Clinton's supporters have a favorable view of Russia.
According to the poll, 50 percent of Democrats believe that Russia is seeking to influence the 2016 election. In fact, the Obama administration has accused Russia of trying to sway the upcoming presidential election.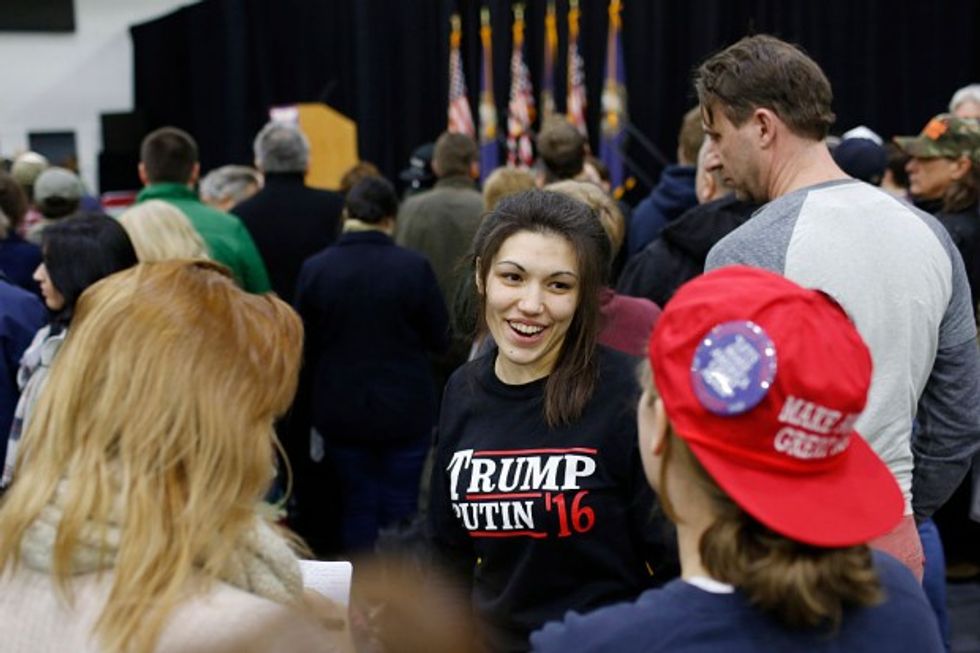 A woman wears a shirt reading "Trump-Putin '16" before a rally for Donald Trump at Plymouth State University in Plymouth, New Hampshire, Feb. 7. (Dominick Reuter/AFP/Getty Images)
Trump has praised Russian President Vladimir Putin as a "leader" with "very strong control over a country."
"Now, it's a very different system, and I don't happen to like the system. But certainly, in that system, he's been a leader, far more than our president has been a leader," Trump said last month during NBC News' Commander-in-Chief Forum.
Clinton, who has repeatedly called Trump's praise of Putin unpatriotic, told reporters during a September press conference:
Bizarrely, once again, he praised Russia's strongman, Vladimir Putin, even taking the astonishing step of suggesting that he prefers the Russian president to our American president. Now, that is not just unpatriotic and insulting for the people of our country as well as to our commander in chief, it is scary. Because it suggests he will let Putin do whatever Putin wants to do.
Politico noted that the poll comes at a time of "unmatched post-Cold War hostility" between the United States and Russia.