Could "Trump TV" actually be the end goal? According to a new report, maybe so.
Jared Kushner, Donald Trump's son-in-law and publisher of the New York Observer, "informally approached one of the media industry's top dealmakers" a few weeks back about the possibility of building a conservative network in the Republican presidential nominee's image after the election in November, the Financial Times reported Monday.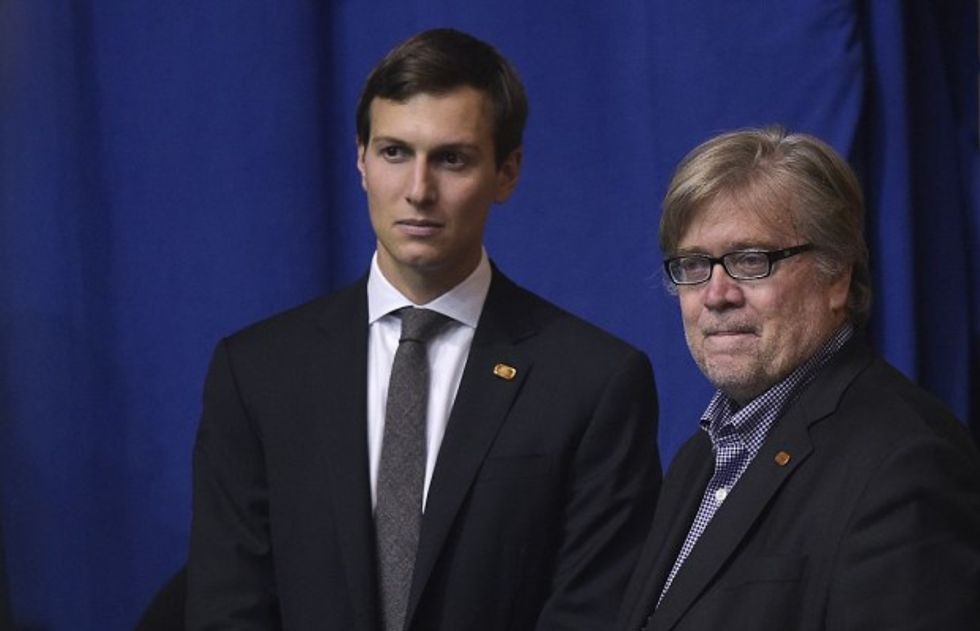 Jared Kushner and Stephen Bannon (MANDEL NGAN/AFP/Getty Images)
Rumblings about a potential news outlet are nothing new, given Trump's knack for frequently rebuking news outlets for their reporting. In June, Vanity Fair reported that Trump is interested in expanding his current media production business into a "mini-media conglomerate." The GOP candidate's campaign denied the report at the time.
Kushner's contact with Aryeh Bourkoff, founder of investment bank LionTree, has reignited conversation about the potential TV venture if Trump fails to win the presidency on Election Day. However, according to a source close to the situation, LionTree is uninterested in such a project.
Some people who predicted the possible TV network feigned surprise at the FT report. Nebraska Sen. Ben Sasse, an anti-Trump Republican, took to Twitter to lob a sarcastic dig at the billionaire businessman.
Who could have possibly seen this one coming? https://t.co/wWYrP3Onnl

— Ben Sasse (@BenSasse) October 17, 2016
In September, TheBlaze's founder Glenn Beck said Trump would be "fantastic" at launching his own media conglomerate.
"Trump will be fantastic at it," he said, "because you can just keep juicing those people up in crazier and crazier things and they'll just keep paying you money and you'll make $20 million a year."
Trump, for his part, told the Washington Post last month that he has "no interest in a media company," calling any report suggesting otherwise a "false rumor."