In a rare television interview, Steve Bannon, Republican presidential nominee Donald Trump's campaign CEO, raised speculation that Trump might bring a guest to the debate tonight other than President Barack Obama's half brother.
Bannon was the chairman of Breitbart until he left earlier this year to take an official job with the campaign. Since then, Bannon has refused any on-the-record interviews, but he talked with reporters in the Las Vegas airport Wednesday and teased that Trump might have big surprises in store for Democratic nominee Hillary Clinton at the evening's debate.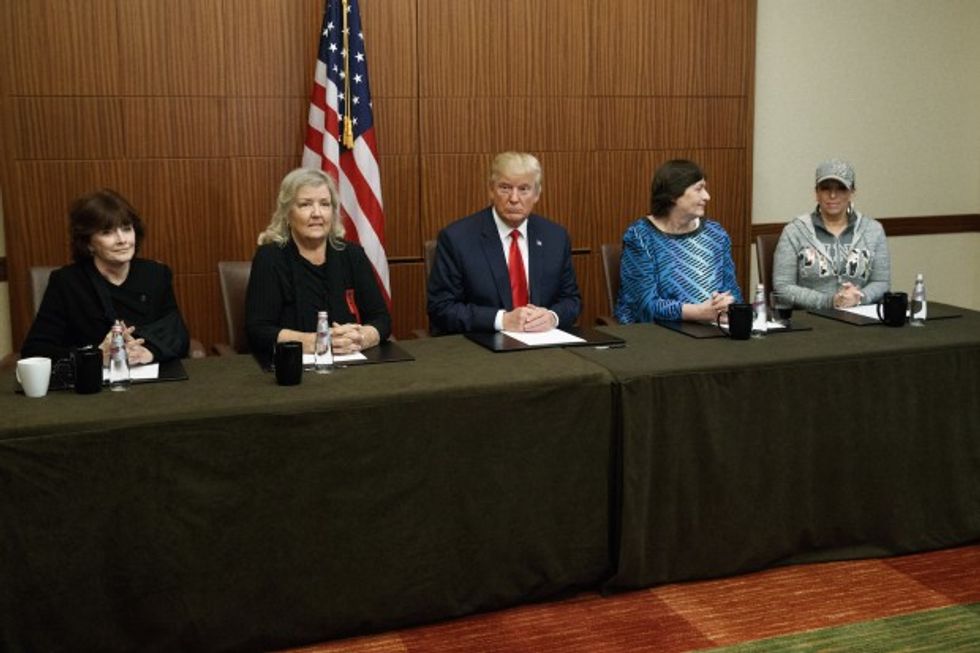 Republican presidential candidate Donald Trump, center, sits with, from right, Paula Jones, Kathy Shelton, Juanita Broaddrick, and Kathleen Willey ahead of the second presidential debate Oct. 9 in St. Louis. (AP Photo/ Evan Vucci)
According to Bannon, the news that President Obama's Trump-supporting half-brother Malik Obama is attending Wednesday's debate is "just an appetizer."

Trump will be bringing guests who "expose Bill and Hillary's sordid past," Bannon told CNN as he arrived in Las Vegas for the debate late Tuesday night.

When asked who comes up with the ideas to invite these guests, Bannon said, "We're a team."
Trump has already raised the stakes to an unprecedented level in terms of using his campaign's debate invites as an attempt to throw Clinton off her game. At the last debate, Trump stunned the media by holding a pre-debate press conference with four women who accused former President Bill Clinton of sexual assault, and then invited them to sit in the debate gallery for the town hall style debate.
Although Bill Clinton reacted in a visibly uncomfortable manner when Trump discussed allegations relating to his sexual misconduct during the debate, Hillary Clinton seemed unfazed by either the accusations or the presence of the accusers in the audience. Bannon's comments indicate that Trump could be raising the bar even higher for tonight's debate audience.