This week, there was no Ken Bone.
But according to Twitter and cable news panels, the hero that emerged from Wednesday's third and final presidential debate was its moderator, Fox News's Chris Wallace.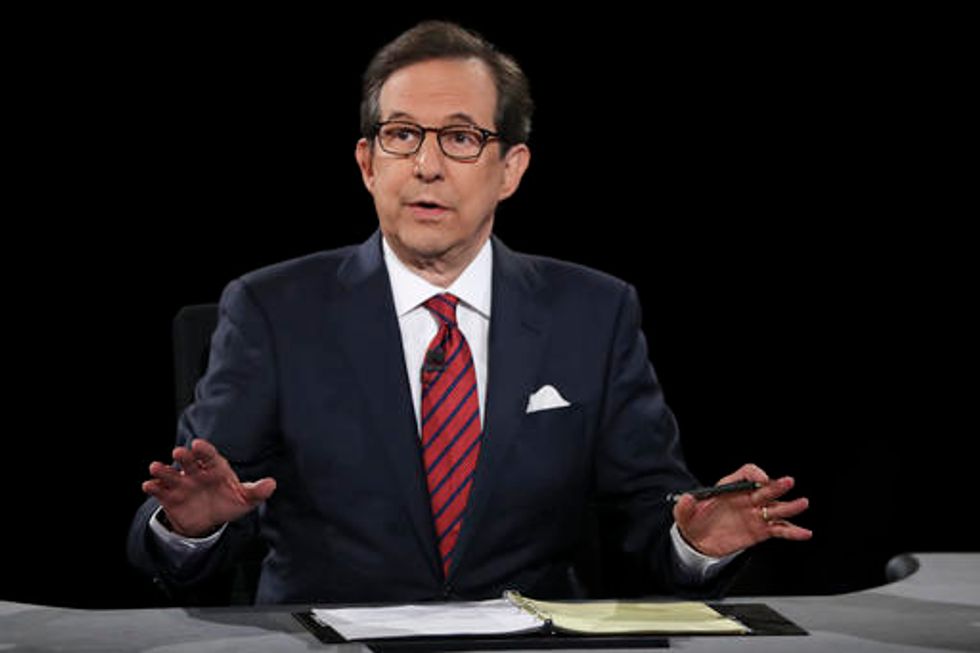 Moderator Chris Wallace of Fox News guides discussion during the third presidential debate at UNLV in Las Vegas. (Joe Raedle/Pool via AP)
The bespectacled news anchor earned instant rave reviews from the debate audience for his ability to keep Republican nominee Donald Trump and Democratic nominee Hillary Clinton on track — while fact-checking them both relatively even-handedly.
I think it's clear who won that debate: Chris Wallace #debatenight

— Baratunde (@baratunde) October 20, 2016
Chris Wallace did an excellent job. Too many of us on the left dismiss him because he's a Fox guy. He's a journalist, first.

— Claude Taylor (@TrueFactsStated) October 20, 2016
Chris Wallace from @FoxNews did a stellar job this evening. He personified 'fair and balanced'.

— Eric Bischoff (@EBischoff) October 20, 2016
Chris Wallace is actually bae right now. #debatenight #GIPHYStudios https://t.co/huYkHvBipX pic.twitter.com/OaWCLlgfdI

— GIPHY (@giphy) October 20, 2016
NOT EVEN CLOSE: Chris Wallace is far & away the best moderator we've seen in the three debates #debatenight

— Dinesh D'Souza (@DineshDSouza) October 20, 2016
Holy cow. Trump is in third place in this debate, behind Clinton AND Chris Wallace.

— Keith Olbermann (@KeithOlbermann) October 20, 2016
Chris Wallace did a good job. Taking no shit, like a veteran teacher monitoring detention hall.

— Stephen King (@StephenKing) October 20, 2016
He works for Fox but Chris Wallace deserves exceptional praise. He was tough and he was right down the middle fair. His Dad would be proud.

— Howard Dean (@GovHowardDean) October 20, 2016
Wallace even earned praise from both sides of the aisle:
Was Wallace fair? RNC's @SeanSpicer: "He did a good job." Clinton campaign's @BrianEFallon: "I think he did an extremely effective job"

— Brian Stelter (@brianstelter) October 20, 2016
And his stellar debate performance caused the wrong Chris Wallace to have an interesting night:
Got a few more tweet views tonight than normal. #debatenight #wrongchriswallace pic.twitter.com/87nuP157F8

— Chris Wallace (@chriswallace) October 20, 2016