Donald Trump apparently believes the invasion of the Iraqi city of Mosul by native forces in an effort to thwart the Islamic State is a politically timed operation to benefit Hillary Clinton in November.
"The only reason they did it is because she is running for the office of president," the Republican presidential nominee said during Wednesday's final debate. "And they want to look tough. They want to look good."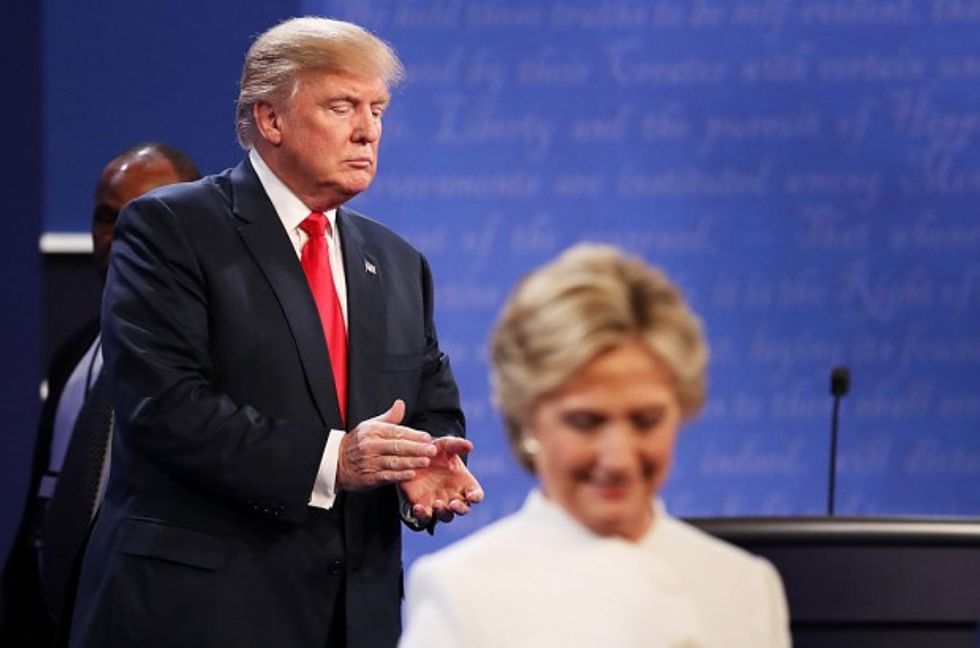 Donald Trump and Hillary Clinton at the conclusion of the final presidential debate Wednesday night. (Drew Angerer/Getty Images)
At present, Iraqi forces are working to free Mosul, the country's third-largest city, from the grip of the Islamic State, which has controlled the area since 2014. According to several reports, efforts by the Iraqi forces and Kurdish Peshmerga fighters are being helped by a U.S.-led coalition in the air and on the ground.
Attacking Clinton and President Barack Obama's administration, of which the Democratic presidential nominee was a part, Trump pivoted to the infamous "red line in the sand" against Syrian President Bashar al-Assad's use of chemical weapons in 2013. When Assad allegedly used chemical weapons, Obama chose to negotiate with Russia to neutralize the threat instead of retaliating with military force.
"He violated the red line in the sand. And he made so many mistakes. Made all mistakes. That's why we have the great migration," Trump said, seeming to reference the ongoing refugee crisis. "But she wanted to look good for the election. So they're going in. But who is going to get Mosul, really? We'll take Mosul eventually."
In response, Clinton said she was "amazed" Trump would make such an allegation.
"I'm just amazed that he seems to think that the Iraqi government and our allies and everybody else launched the attack on Mosul to help me in this election, but that's how Donald thinks," she said. "You know, he always is looking for some conspiracy."
During the heated back-and-forth centered on the Middle East, Trump blamed Clinton for the Iraq War, the war in Syria and the rise of the Islamic State. He told debate watchers, "We never should have let ISIS happen in the first place."