As of Thursday morning, Democratic presidential nominee Hillary Clinton and her Republican counterpart are officially finished facing off on a debate stage. But what was the outcome for the candidates following Wednesday night's faceoff — win, lose or draw?
Clinton led GOP nominee Donald Trump in a CNN/ORC snap poll by 13 points — meaning she swept all three presidential debates this election cycle, according to that poll.
Of the 547 registered voters polled by CNN/ORC, 52 percent thought Clinton did the best during the Las Vegas debate compared to 39 percent who thought Trump came out on top.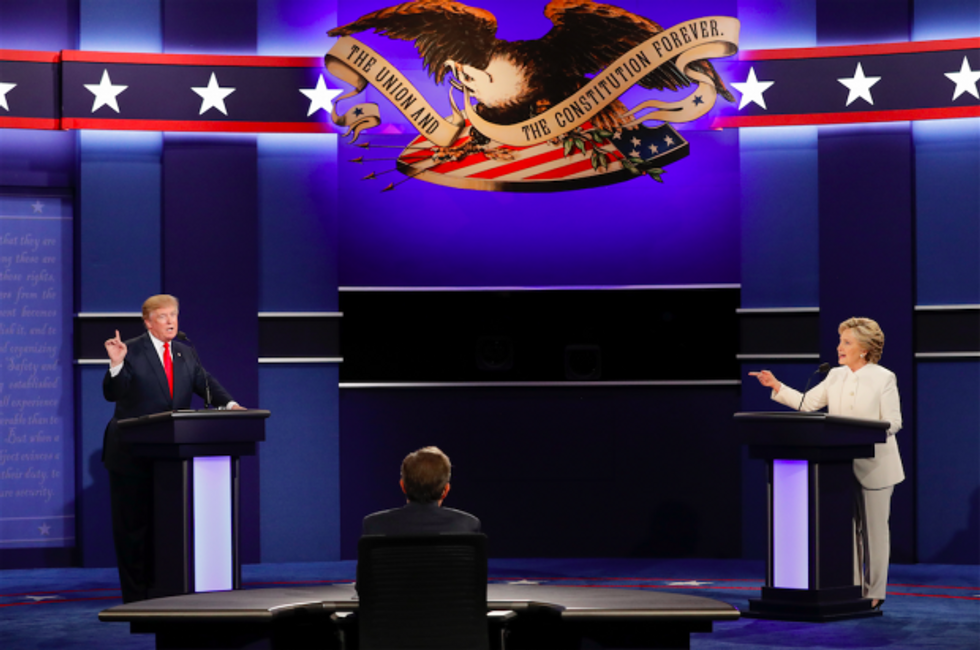 Democratic presidential nominee Hillary Clinton debates Republican presidential nominee Donald Trump at UNLV in Las Vegas on Wednesday. (AP Photo/John Locher)
As CNN noted, the margin between the two contestants tightened in the third debate compared to a 35-point difference in the first debate and a 23-point difference in the second.
YouGov polled nearly twice the number of registered voters as CNN/ORC — 1,503 registered voters, to be exact — and found a similar result.
According to YouGov's findings, 49 percent of voters thought Clinton won; 39 percent picked Trump as the winner. And just 12 percent of voters called the debate a tie.
Even the pro-Trump website Breitbart.com had the Manhattan businessman with only a slight lead over Clinton its own poll following the debate.
As of Thursday afternoon, Trump led Clinton in the unscientific poll by approximately six points. Yet at certain moments following the final debate, Clinton actually led Breitbart's preferred candidate.
Hillary is currently up by 20 pts in *Breitbart's* post debate online poll. https://t.co/Nql0BSCvOt pic.twitter.com/XqqIqDTzNt

— Todd Zwillich (@toddzwillich) October 20, 2016
And in terms of social media, Trump may have come out on top, accruing the most Twitter mentions between 9 p.m. and 10:37 p.m. EST.
But as social media monitoring site Brandwatch's Kellan Terry pointed out, Clinton managed to do something that had not yet been seen in 2016's presidential debates — generate a mostly positive conversation.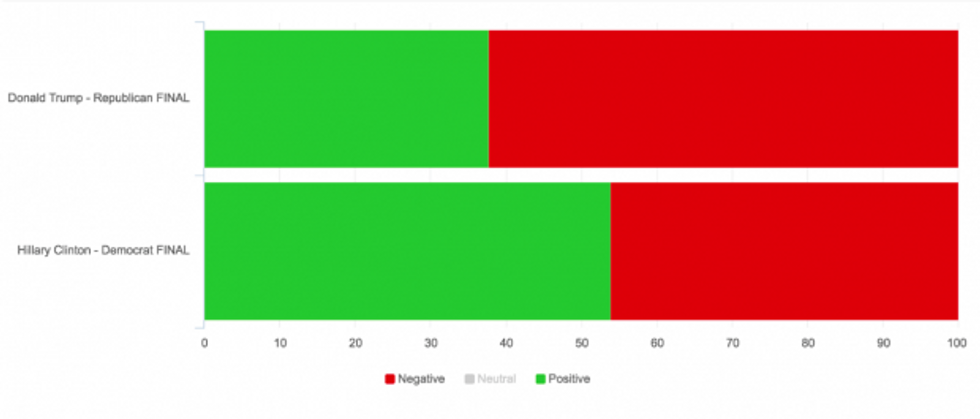 Image provided to TheBlaze.
According to Brandwatch's data, the conversation surrounding Clinton during the debate was 53.8 percent positive. In comparison, Trump's conversation was 62.4 percent negative.
However, Trump racked up more than 1.2 million mentions on Twitter compared to the former secretary of state who received more than 809,000 mentions.
Regardless of snap polls following the debate, one particular statement from Trump during the contest didn't sit well with Republican leaders who already have a tumultuous relationship with the GOP nominee.
From the debate stage, Trump refused to answer if he would accept the outcome of the election, especially should he lose in November.
"I will keep you in suspense," he said.
While Clinton deemed his answer "horrifying," many Republicans, including former 2016 and 2008 presidential contenders balked at his sentiment as well.
Arizona Sen. Jeff Flake deemed Trump's comments "beyond the pale" on Twitter Wednesday night. Sen. Lindsey Graham (S.C.) criticized Trump as doing a "disservice" to the country as he called the election "rigged."
And Arizona Sen. John McCain, the Republican Party's 2008 nominee, issued a lengthy statement in which he drew upon his own loss and said it is the "American way" to concede a presidential election:
There have been irregularities in our elections, sometimes even fraud, but never to an extent that it affected the outcome. We should all be proud of that, and respect the decision of the majority even when we disagree with it. Especially when we disagree with it.

I didn't like the outcome of the 2008 election. But I had a duty to concede, and I did so without reluctance. A concession isn't just an exercise in graciousness. It is an act of respect for the will of the American people, a respect that is every American leader's first responsibility.

Whatever our differences we owe each other that respect, which we express by defending the democratic values and practices that protect us all.
Ahead of the debate, Clinton led Trump by almost seven points, according to Real Clear Politics' aggregated polling data.
FiveThirtyEight's election forecast has Clinton with a 86.4 percent chance of winning. According to statistician Nate Silver's site, Trump only has a 13.5 percent chance of winning come November.
Trump's campaign has recently been plagued by sexual assault allegations following leaked audio from 2005 in which Trump spoke crudely about women.
Clinton's campaign, too, has faced troubles in recent days as WikiLeaks released hacked emails from campaign chairman John Podesta that weren't favorable.