A women's rights activist told TheBlaze Friday that contrary to Democratic presidential nominee Hillary Clinton's claim during the third presidential debate, China has not stopped forcing women to have abortions.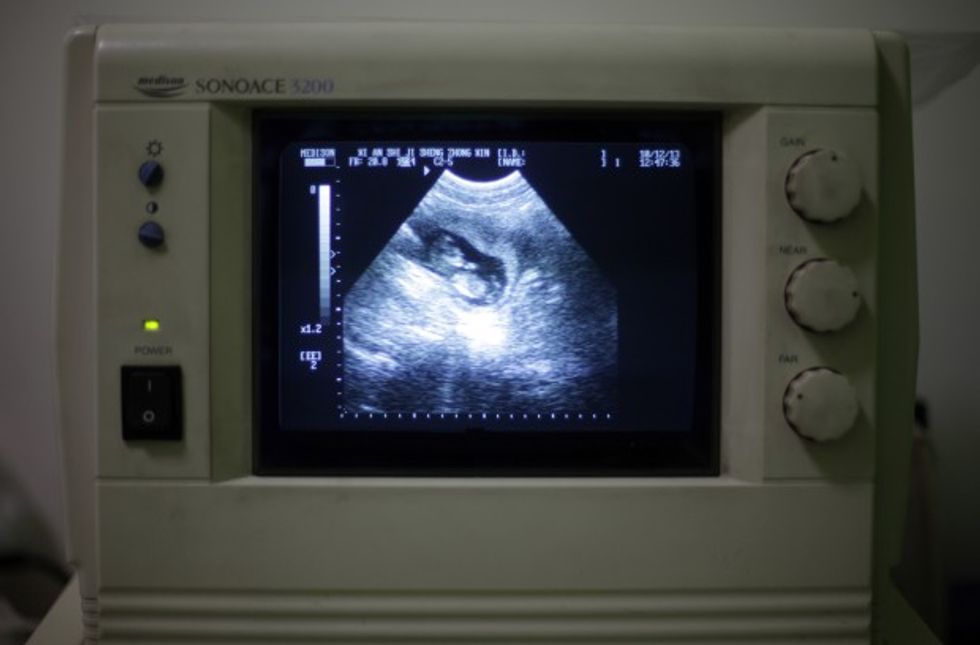 This photo taken Monday, Dec. 13, 2010 shows an image of a three-month-old fetus during a sonogram scan for "Nancy" Yin at a clinic run by Marie Stopes International in Xi'an in central China's Shaanxi province. (AP Photo/Ng Han Guan)
While Clinton discussed her position on abortion during Wednesday evening's presidential debate, she said China "used to" force women to undergo abortions:
I've been to countries where governments either forced women to have abortions, like they used to do in China, or forced women to bear children like they used to do in Romania. And I can tell you the government has no business in the decisions that women make with their families in accordance with their faith, with medical advice. And I will stand up for that right.
For many years, in parts of the communist country, the one-child limit imposed by the government was enforced through fines or even forced abortions and sterilizations.
Although China amended its one-child policy last year to permit married couples to have two children, the practice of enforcing the law through coercion has not ceased, Reggie Littlejohn, president of Women's Rights Without Frontiers, told TheBlaze in a statement.
"With all her experience as former Secretary of State, it is untrue and deeply disappointing for Hillary Clinton to put the Chinese government's practice of forced abortion in the past," Littlejohn said. "If she thinks that China no longer forces women to abort babies, she should explain that to a couple, surnamed Zhong, who in August of this year were forced to choose between an abortion at eight months or the loss of both of their government jobs. Or she should inform He Liping, who was forced either to pay an impossible 'terror fine' of $39,000 or face abortion at six months."
Littlejohn pointed to a BBC article from earlier this year showing that Family Planning Police in China continue to screen women of child-bearing age for pregnancy four times a year, and it remains illegal for single women to have a child or for couples to have a third child in the country.
In the article, a Chinese family planning official acknowledged he still spends some of his time "working as a birth-control enforcer" after China changed its one-child policy.
Littlejohn said "the Chinese Communist Party has not agreed to get out of the bedrooms of the Chinese people, and presidential candidates should not be stating or implying that they have."
"We need to keep the international pressure on the Chinese Communist Party until all coercive population control is eradicated," she added.