Khizr Khan, a Gold Star father who feuded with Republican presidential nominee Donald Trump earlier this summer, asks the candidate a very personal question in a new ad for Democratic presidential nominee Hillary Clinton.
"In 2004, my son was stationed in Iraq," Khan says in the video. "He saw a suicide bomber approaching his camp. My son moved forward to stop the bomber when the bomb exploded. He saved everyone in his unit. Only one American soldier died."
"My son was Capt. Humayun Khan. He was 27 years old, and he was Muslim American," an emotional Khan continues. "I want to ask Mr. Trump: Would my son have a place in your America?"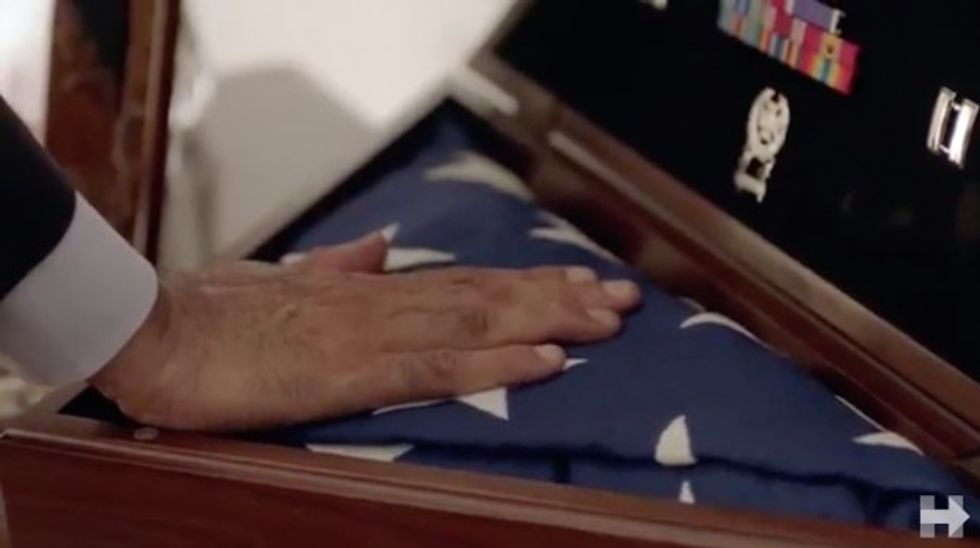 Image source: YouTube
Khan criticized Trump during a speech at the Democratic National Convention in July for proposing a ban on Muslim immigration.
Trump then attacked Khan for his rebuke:
I was viciously attacked by Mr. Khan at the Democratic Convention. Am I not allowed to respond? Hillary voted for the Iraq war, not me!

— Donald J. Trump (@realDonaldTrump) July 31, 2016
Mr. Khan, who does not know me, viciously attacked me from the stage of the DNC and is now all over T.V. doing the same - Nice!

— Donald J. Trump (@realDonaldTrump) August 1, 2016
A spokesperson for the Clinton campaign said the ad will air in the battleground states of Florida, Iowa, Nevada, New Hampshire, North Carolina, Ohio and Pennsylvania.