The prestigious Bronx High School of Science boasts an elite array of alums — including winners of eight Nobel Prizes and six Pulitzer Prizes.
But recently those attending the New York City school have been making headlines for much less erudite stuff — namely a student-run MMA-style fight club exposed by the New York Daily News after videos of brutal bouts were posted on Facebook.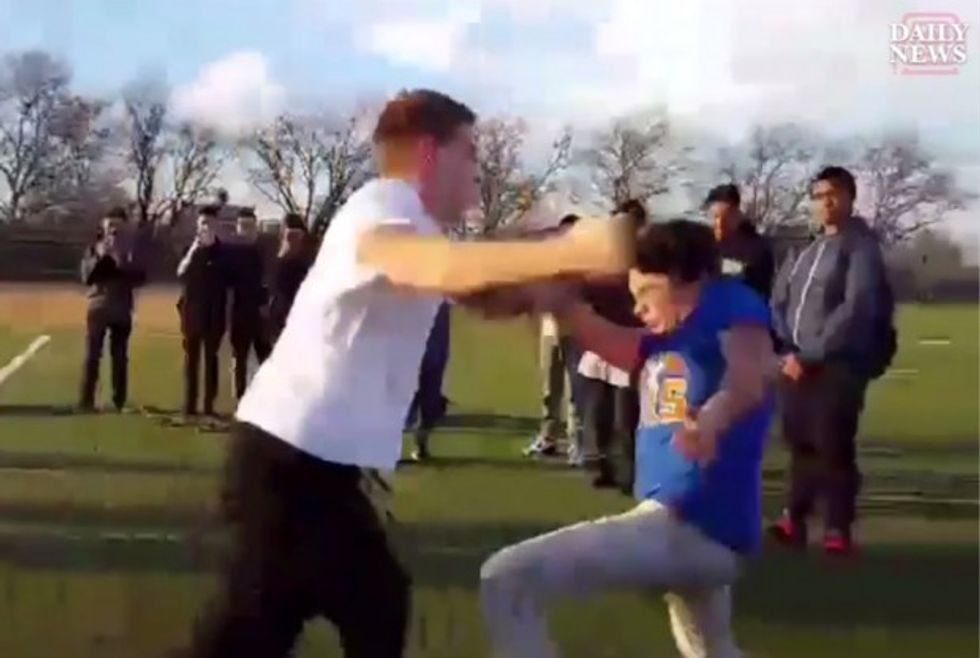 Image source: New York Daily News
You'd think that being outed so publicly would be sufficient to bring brains that ought to know better back to their senses — but the grey matter was apparently playing hooky.
Instead, the Daily News reporter was allegedly threatened and harassed by students the day after the story ran — 27 phone calls, seven voice mail threats and 47 threats on Facebook — a complaint filed with the NYPD said, according to the paper.
Talk about breaking the first rule of fight club in spectacular fashion.
"I really liked your article for the Daily News about nerds who fight," junior Wataru Takada reportedly wrote. "I think you should drop by for an interview at Bronx Science. Bring your mouthguard, bulletproof vest and great life insurance."
A police source told the Daily News that Takada, 16, also admitted to calling the reporter twice and leaving "vile" messages on his voice mail.
So police charged Takada with misdemeanor aggravated harassment, the paper said, and he surrendered to police with an attorney Wednesday evening. He's being prosecuted as an adult, police told the paper, and it's his first arrest.
The fights took place at a field off school property, although a mother of one student told the Daily News some occurred during school hours.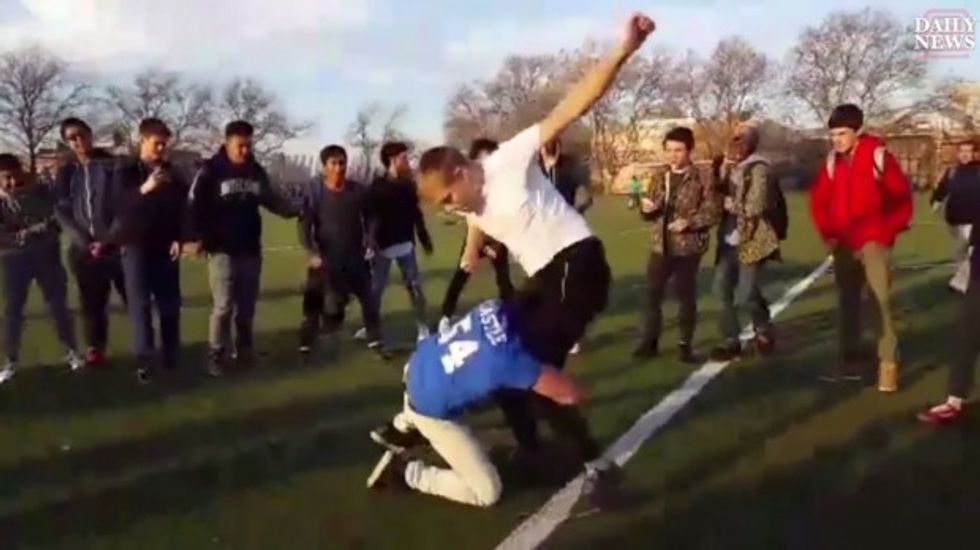 Image source: New York Daily News
"I took my son out of the school after he told me about the videos," she told the paper. "It was not safe. It's one of the best high schools in the country, and then you see the reality of what goes on in there. It's insane. These kids are super-smart, but they have zero common sense."
The mother also told the Daily News she told school officials about the fights months ago, but administrators said they couldn't do anything since the fights were off school property.
"It's a volunteer thing," a senior fighter told the paper. "You do it for publicity. It gets you the laugh. ... I've fought in about two or three. It's not a big deal. It makes you cool."