The liberation of certain portions of Iraq from ISIS control may not be going as smoothly as previously hoped.
The Obama administration has recently touted the success of Iraqi and Peshmerga forces in securing the area around the key Iraqi city of Mosul, but according to as-yet-unconfirmed CNN reports, the liberation forces have frequently completely vacated cities they have liberated, leaving those cities completely undefended against ISIS forces. ISIS forces have taken advantage of the resulting vacuum of power by sweeping into these cities and executing civilians — in some cases literally as they are celebrating their liberation from ISIS control.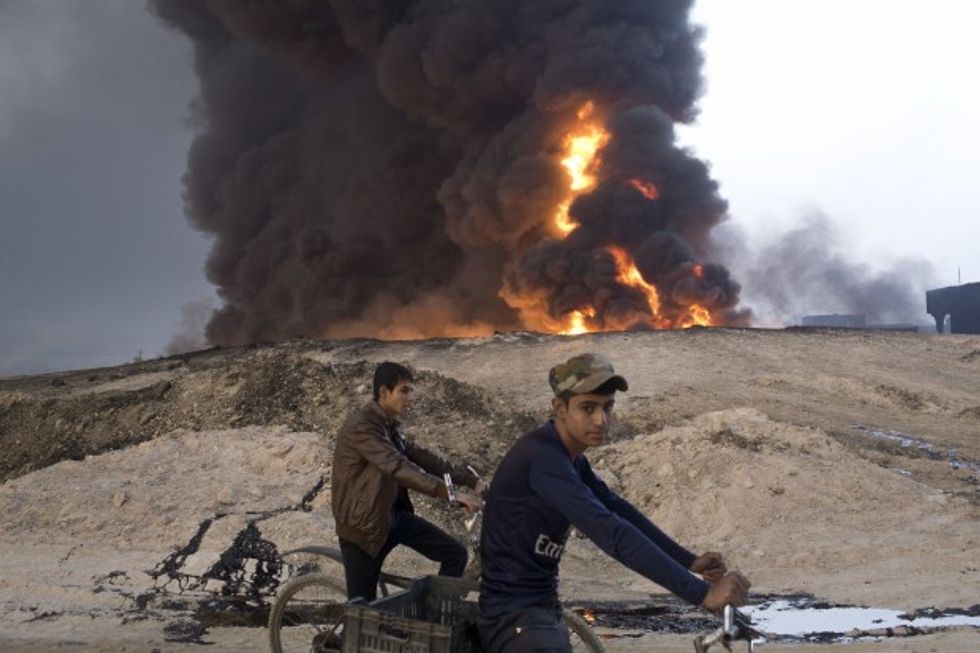 Youths ride bicycles next to a burning oil well in Qayyarah, about 31 miles (50 km) south of Mosul, Iraq, Sunday, Oct. 23, 2016. Islamic State fighters torched a sulfur plant south of Mosul, sending a cloud of toxic fumes into the air that mingled with oil wells the militants had lit on fire to create a smoke screen. (AP Photo/Marko Drobnjakovic)
Iraqi intelligence officials reported to American media that ISIS carried out 284 such executions on Thursday and Friday of last week, followed by another 40 on Saturday in villages in the neighborhood of Mosul: Kabiba, Hamdaniya, Mukhalat and al Jayef.
CNN reports that failure to strategically secure freed villages has become a systematic problem in the area around Mosul: "CNN has received several accounts of Iraqi forces "freeing" villages and moving on to the next offensive without keeping enough of a presence to ensure militants did not return."
The offensive to retake Mosul has likewise become the subject of intense partisan debate, as Democrats have claimed that it represents evidence that the Obama administration's Iraq policy is working. Republican presidential nominee Donald Trump, meanwhile, predicted in the third and final debate that the liberation of Mosul from the hands of ISIS would simply result in the city falling into Iranian hands.