The right-wing news site Breitbart, which has long been a safe haven for Donald Trump, teamed up with a liberal activist during the Republican primaries to take down candidates like Sens. Marco Rubio (Fla.) and Ted Cruz (Texas), according to a new report.
Aaron Black, an associate at Democracy Partners, which has been featured in undercover videos by the Project Veritas group, would often tip Breitbart off about the stunts he planned to pull, exchanging raw video footage for coverage, a source close to the situation told Politico.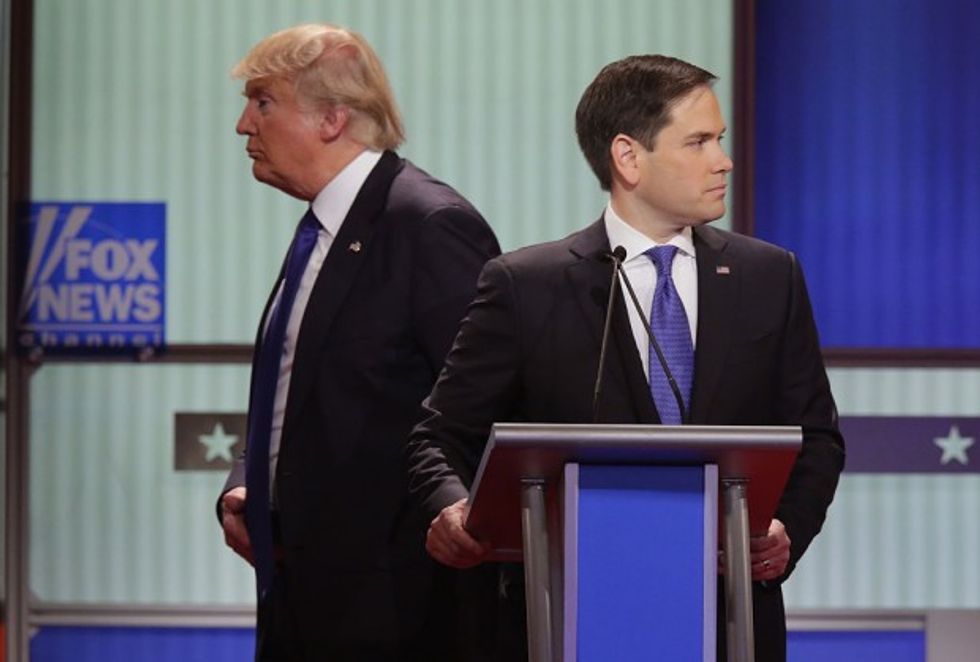 Republican presidential candidates Donald Trump and Sen. Marco Rubio (R-Fla.) participate in a debate sponsored by Fox News at the Fox Theatre on March 3, 2016 in Detroit, Michigan. (Chip Somodevilla/Getty Images)
Black and Breitbart coordinated through email, by phone and in person, according to the source. One of the stories that arose from their behind-the-scenes relationship came when Black dressed up as a robot and appeared at Rubio's campaign events. A February article outlined a momentary tussle between Black and Rubio's New Hampshire campaign chairman.
"He worked directly with Breitbart's political team on the ground in the primary states to sabotage Marco Rubio & Ted Cruz, and elect Trump as nominee of [the Republican] Party," the source told Politico. "[Black] was coordinating with [Breitbart's] top staff to rabble rouse against Rubio at rallies."
The fact that Breitbart has all along been supportive of Trump is nothing new, especially given the outlet's former chairman, Steve Bannon, is now the GOP candidate's campaign CEO. It was, however, unknown exactly how far Breitbart would go to ensure Trump's strongest competitors were defeated.
Though Breitbart and Black teamed up to bring about the same result, it is not likely they shared the same intention. According to emails stolen by WikiLeaks, it was Rubio the Clinton campaign feared most in a general election matchup. But Breitbart wanted to see the Florida lawmaker go down because they saw him as supportive of "open borders" and "amnesty."
Revelations about the interaction between the Trump-friendly website and the Democracy Partners operative come as the Republican presidential nominee continues to berate the media as an extension of Hillary Clinton's campaign, claiming the entire election process — from the press box to the ballot booth — is "rigged" against him.
It is worth noting that while campaigning in Florida Monday, Trump didn't mention Rubio's name once, while Tim Kaine, the Democratic vice presidential nominee, attacked the incumbent senator twice, according to CNN's Betsy Klein.