Pro-abortion organizations often argue that "one in three" women in the United States has had an abortion.
The Washington Post fact checked this claim frequently utilized by pro-choice activists and granted it four "Pinocchios" — a rating they reserve for "whoppers."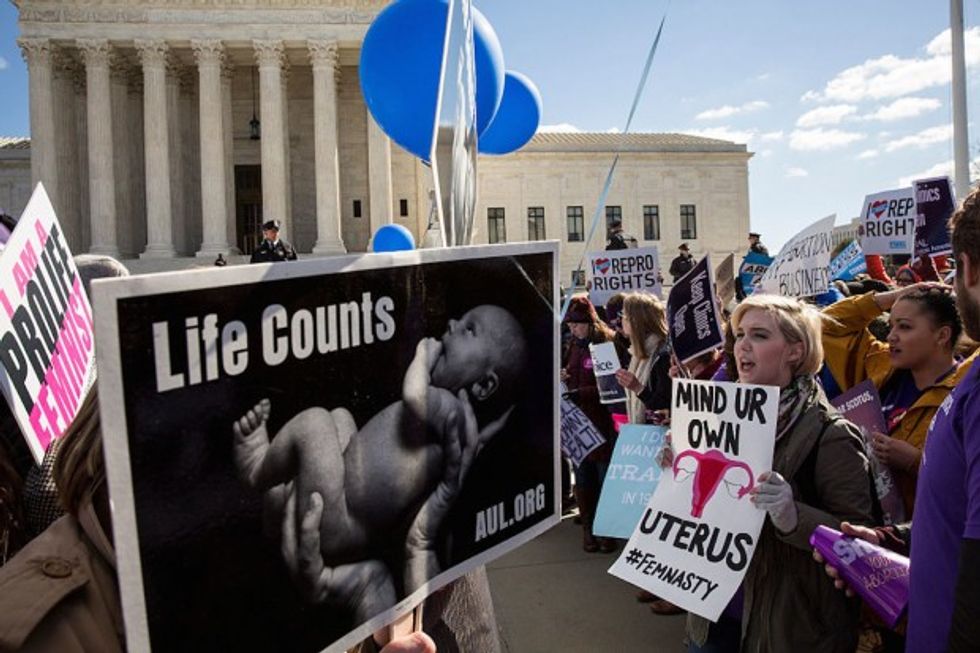 Pro-choice and pro-life advocates rally outside the Supreme Court. (Drew Angerer/Getty Images)
The Post specifically examined a letter six organizations sent petitioning presidential debate moderators to ask the candidates about abortion that stated: "One in three women in this country has had an abortion."
Those who make this claim typically refer to a 2011 study by the Guttmacher Institute that found that if the 2008 abortion rate continued, 30 percent of women would have an abortion by age 45.The data projected that the abortion rate would remain constant. However, it has declined since 2008.
The Post found that the claim that "one in three" women have had abortions is "an inaccurate reference to research relying on data nearly a decade old."
"In this case, the statistic was simplified way too much — that one in three women (with no age specification) have had (not "will have by age 45") an abortion," the Post concluded. "This statistic is unsupported by facts and earns Four Pinocchios."