After President Barack Obama stated last year that he learned of Hillary Clinton's use of a private email server while she was secretary of state through news reports, top Clinton aides appeared to go into crisis management mode.
In a March 7, 2015, email, Clinton spokesman Josh Schwerin alerted other campaign staff that the president had just said that he learned of the revelation "the same time everybody else learned it through news reports." The message was sent to four Clinton aides: Jennifer Palmieri, Kristina Schake, Nick Merrill and Jesse Ferguson.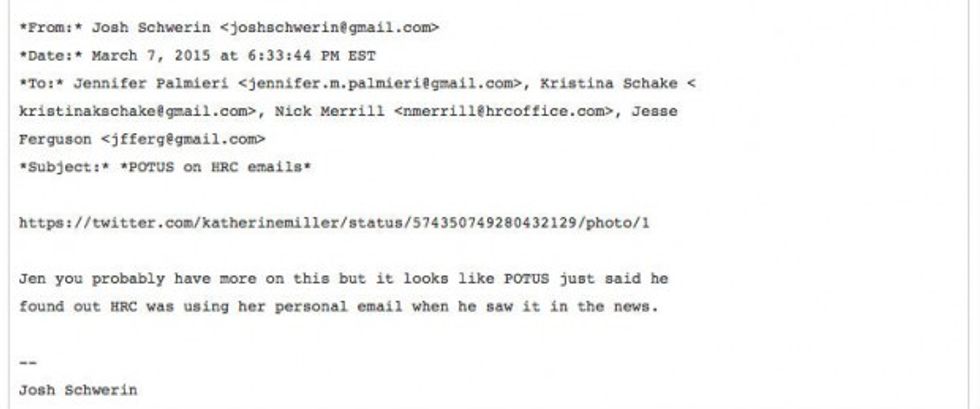 Image source: WikiLeaks
Merrill later forwarded the email to one of Clinton's longest-serving and closest aides, Cheryl Mills, who then informed Clinton campaign manager John Podesta.
"We need to clean this up — he [Obama] has emails from her — they do not say state.gov," Mills wrote to Podesta in an email sent just a few hours later.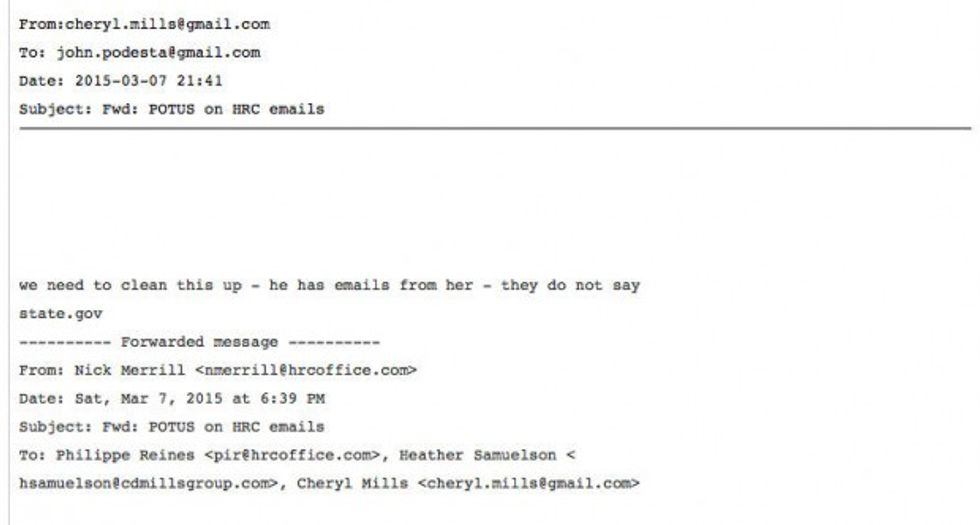 Image source: WikiLeaks
The leaked messages from WikiLeaks seem to suggest that the president was untruthful about how he found out that his former secretary of state used a private email account — or at least didn't notice the emails he received from her did not come from a secure government email server.
"The point that the president was making is not that he didn't know Secretary Clinton's email address, he did. But he was not aware of the details of how that email address and that server had been set up or how Secretary Clinton and her team were planning to comply with the Federal Records Act," White House Press Secretary Josh Earnest said two days after the email exchange took place in March 2015, according to the Hill.
Clinton exchanged at least 18 emails with Obama during her tenure as secretary of state, according to the State Department. However, those emails are not expected to be released until after Obama leaves office, which is standard when it comes to the release of presidential records.
(H/T: Jason Howerton)