Center for American Progress President Neera Tanden, a leading supporter of Hillary Clinton and a member of her transition team, wanted the person responsible for the Democratic presidential nominee's private email server "drawn and quartered," according to new email revelations.
"Do we actually know who told Hillary she could use a private email?" Tanden inquired in a June 2015 email to Clinton campaign chairman John Podesta, per documents stolen by WikiLeaks. "And has that person been drawn and quartered? Like whole thing is f***ing insane," she added.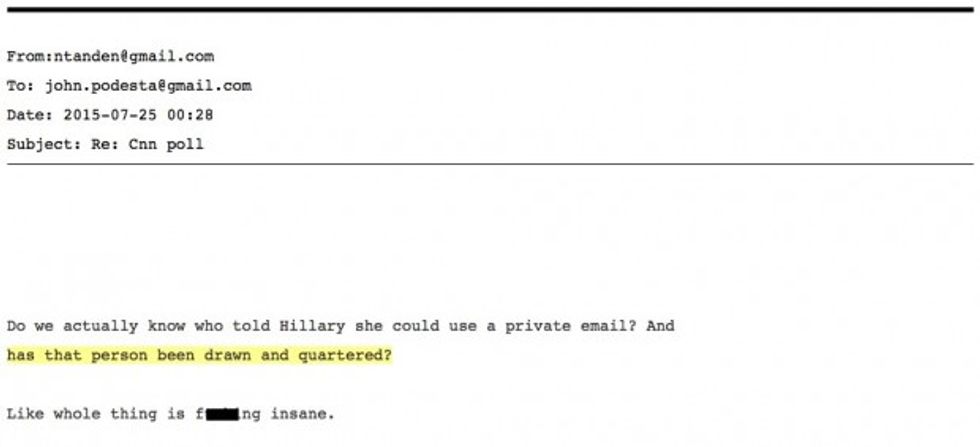 Source: WikiLeaks
And Tanden was not alone in her frustration over the issue. Other documents published by WikiLeaks show several of Clinton's closest aides could not find any good reason for her decision to use a private server during her tenure as secretary of state.
As TheBlaze previously reported, Philippe Reines, one of the Democrat's aides, wrote in a March 2015 email that there is "no good answer" for his boss's controversial email practices.
"There Is Just No Good Answer," he wrote in the message. "We need to gut through the process phase, get them all out there and let the content do the talking."
Clinton's decision to use a private email account has been a major source of controversy since the beginning of her presidential campaign. Following an FBI investigation into her time at the State Department, agency Director James Comey determined Clinton's practices were "extremely careless," but chose not to recommend charges against her.