New Jersey Gov. Chris Christie (R) stunned the political world when he became one of the first major names in politics to endorse Republican presidential nominee Donald Trump, in spite of having criticized him harshly in the primaries. Since then, many fans of Christie have been looking for evidence that Christie's endorsement might not have been as sincere as he would have people believe.
For instance, Christie's behavior at a press conference shortly after his endorsement, where he appeared to look extremely uncomfortable standing behind Trump while Trump was answering questions, was the subject of widespread mockery on the internet, forcing Christie to eventually declare, "I wasn't being held hostage, I wasn't upset. I wasn't angry. I wasn't despondent. ... I wasn't sitting there thinking, 'My God, what have I done?'"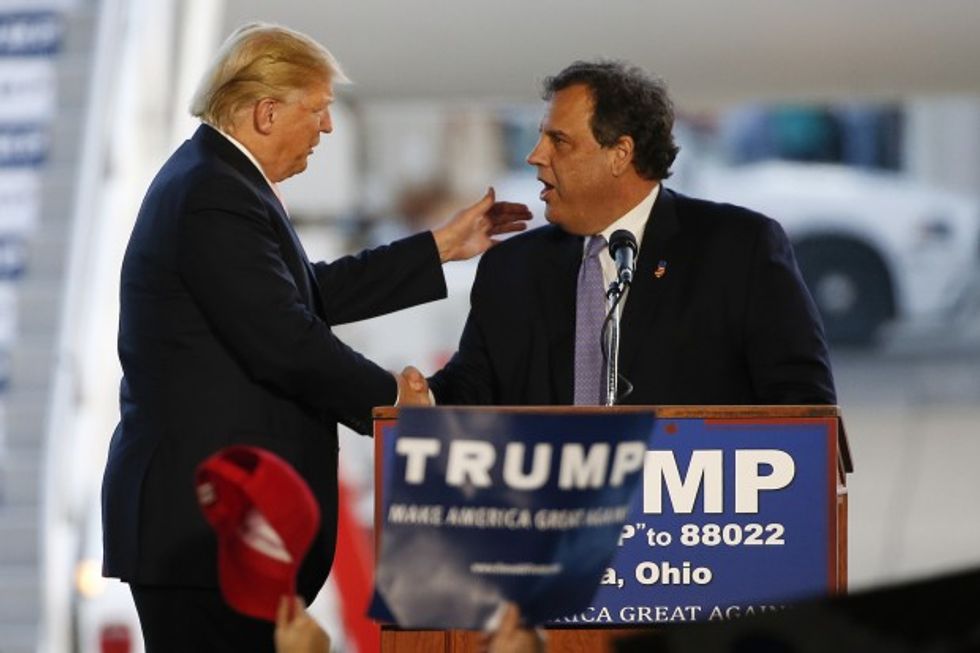 Republican presidential candidate Donald Trump shakes hands with New Jersey GOP Gov. Chris Christie (AP Photo/Gene J. Puskar)
Here's one piece of evidence that Christie's endorsement might not be as enthusiastic as he claims: According to FEC reports released thus far, he has given no money to Trump's campaign.
This is not usual behavior for Christie. According to RawStory, Christie has been a repeat max donor and bundler to Republican presidential campaigns:
In the past, the governor has donated the maximum allowed under law to GOP presidential candidates, including $2,500 to Mitt Romney's 2012 White House bid and $2,000 to George W. Bush's 2004 reelection effort.

Christie also helped raise more than $100,000 in bundled donations for Bush in 1999. Bush named him U.S. Attorney for New Jersey in 2001.

A spokesman for Christie declined to comment on whether the governor has given any money to Trump.

First Lady Mary Pat Christie, who gave the maximum allowable donation to Romney's 2012 bid as well as her husband's 2016 run, hasn't donated to Trump in 2016 either, records show.

The governor's brother, Todd Christie, a multimillionaire Wall Street investment banker who was named one of the Trump campaign's 15 New Jersey "victory finance chairs" last July, also  appears not to have donated to Trump's campaign, according to the FEC database.

Todd Christie has donated hefty sums to presidential candidates and other Republican campaign committees that have higher donation limits, including $50,000 during Romney's 2012 presidential bid and $75,000 when John McCain ran in 2008.
Mary Pat Christie's behavior at a Trump press conference was also the subject of media scrutiny earlier this year when she appeared to roll her eyes at Trump when he suggested that Hillary Clinton was playing the "gender card."
Christie's role in the campaign has been the subject of numerous rumors and leaks since he announced his endorsement. He was widely reported to have fallen out of favor with the campaign during the tenure of Paul Manafort, but was reported to be one of the inner circle of advisors Trump had on hand when the "Access Hollywood" tapes broke, which was probably the lowest point of Trump's campaign to date. Christie also reportedly played the part of Democratic presidential nominee Hillary Clinton in mock debates with Trump.