According to a new CNN/ORC poll, President Barack Obama's approval rating has hit its highest level in almost exactly seven years, dating back to the closing days of the first year of his presidency. The poll, conducted among a sample of 1,012 adults, reveals that 55 percent of Americans approve of the job Obama is doing as president, compared to 43 percent who disapprove. That is the highest approval rating Obama has enjoyed in the CNN survey since its Nov. 13-15, 2009, poll, which also found 55 percent approval of Obama's job performance, compared to 42 percent disapproval.
The poll also finds approval of the Republican Party to be near a 10-year low, with 36 percent of the country approving of the GOP, compared to 53 percent who disapprove. These favorability ratings are worse for the GOP than they were during the height of the Iraq War's unpopularity, when Republicans lost control of the House for the first time since 1994 and also lost control of the Senate. The Democratic Party is viewed favorably by 45 percent of Americans and unfavorably by 45 percent.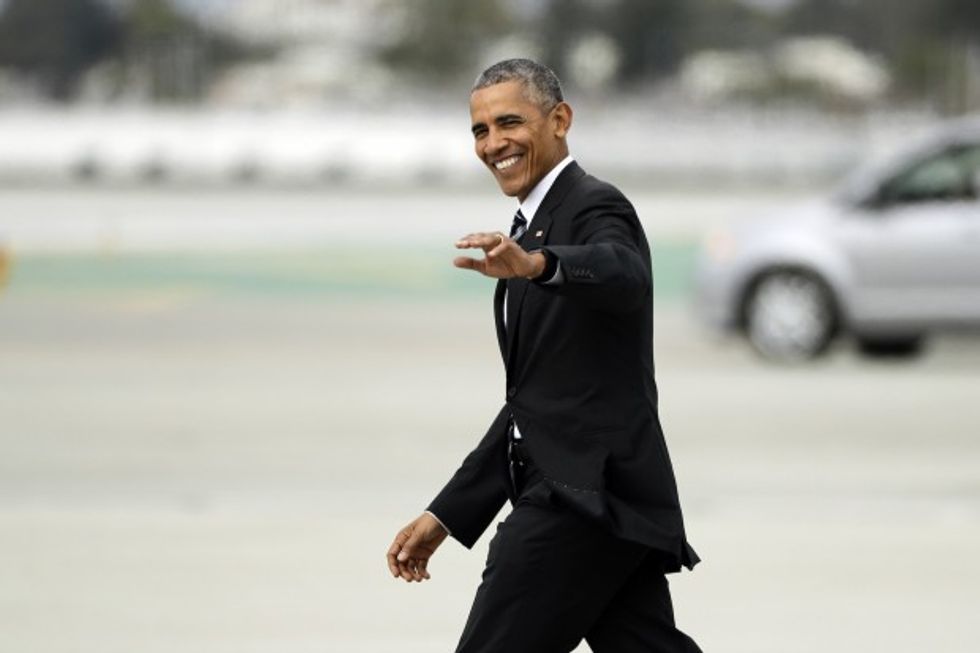 AP Photo/Jae C. Hong
Obama's personal popularity may be benefitting from a comparison to his two most likely successors, both of whom are broadly unpopular, especially Republican nominee Donald Trump. The RealClearPolitics average of polls notes that, on average, polls show that Donald Trump is viewed unfavorably by 59.1 percent of the population, compared to only 37.9 percent who view him favorably. Democratic nominee Hillary Clinton is also unpopular, albeit less so: She is viewed unfavorably by 52.4 percent of the population, compared to 45.1 percent who view her favorably, according to RealClearPolitics.
The combination of these signs have led some to predict electoral catastrophe for the Republican Party on Nov. 8, but the state of the presidential race has remained relatively stable in recent weeks, with most polls showing Clinton maintaining a small but measurable lead on Trump. The polling with respect to key Senate races where Republicans are defending difficult seats in swing and/or blue-leaning states has also remained remarkably competitive. Many political observers conclude that this data is evidence of a deepening partisan polarization in America, which makes the possibility of national blowouts for a single party less likely as time goes on.
Obama has been campaigning aggressively for Clinton in recent months, but it appears to have not significantly influenced the national polling picture.