Claims of a "rigged" election have steadily increased as Election Day draws closer, with Republican presidential nominee Donald Trump asserting Thursday that "vote flipping" is plaguing Texas precincts, but local officials are clamoring to put out that proverbial fire.
"A lot of call-ins about vote flipping at the voting booths in Texas," the brash businessman tweeted. "People are not happy. BIG lines. What is going on?"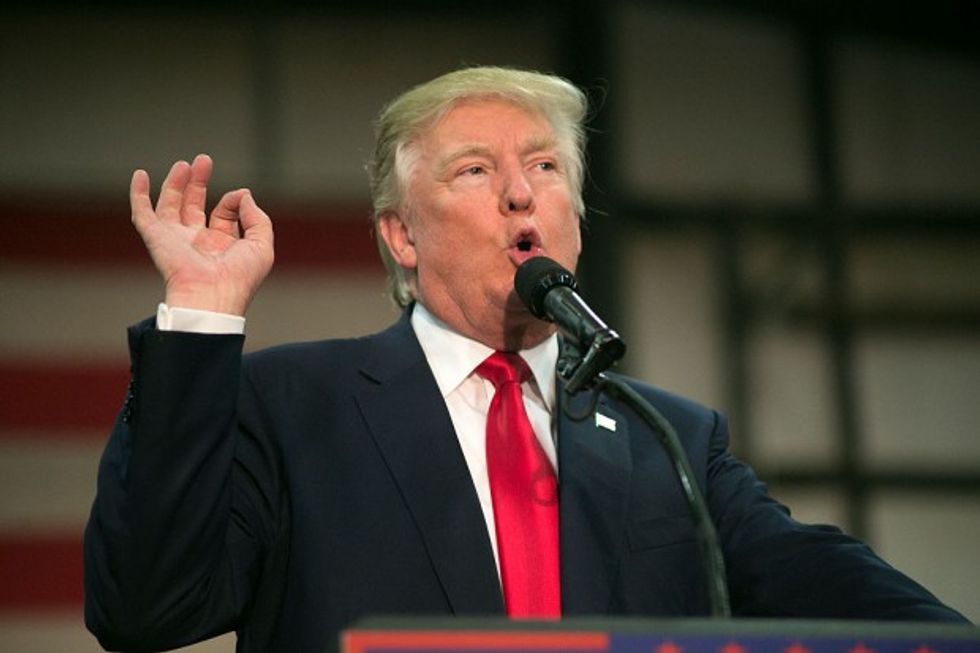 Donald Trump (Maddie McGarvey/Getty Images)
While the comment has earned Trump more than 15,000 retweets, Texas voting officials are reporting there is no foundation to the claim of a "rigged" election — a refrain that has become commonplace in the Republican's campaign as many polls shift in Democratic presidential nominee Hillary Clinton's favor.
"Absolutely not ... It is not happening in any way, shape or form," Shannon Lackey, elections administrator in Randall County, told CNN. "I stand 100% behind what I do. I stand behind my machines, my staff."
Concerns over "vote flipping," the act of casting a ballot for one candidate before seeing it switch to the opponent, gained national headlines when a woman from Arlington, Texas, wrote on Facebook that her vote for Trump was changed to a Clinton vote. That post has been shared more than 200,000 times, despite officials claiming it was nothing more than a case of operator error.
Potter County, which borders Randall County, issued a statement claiming to be experiencing similar issues. County Judge Nancy Tanner attributed all errors to human mistakes.
"There is nothing wrong with any of the machines we use for voting," she said in a statement. "They do not flip your vote. They do not flip parties. Humans do that."
Similarly, Frank Phillips, elections administrator for Arlington's Tarrant County, said in a statement that his investigation "indicated that the voter did not follow the directions for straight-party voting."
On the flip side of the "vote flipping" controversy, a voting machine in Bryan County, Georgia, has been removed from service after the Atlanta Journal-Constitution reported to election officials that it was "flipping" some votes intended for Clinton to Trump. One voter said he had to try three times before the machine finally recorded his vote for the Democratic candidate correctly.
In a statement to CNN, Merle King, executive director for Georgia's Center for Election Systems at Kennesaw State University, said the machine, which has been in use since 2002, will be examined after Election Day. He said the problem could be nothing more than a calibration error.