There's nothing to see here, according to conservative talk radio host Rush Limbaugh, who suggested Friday the FBI's decision to "reopen" its probe into Hillary Clinton is nothing more than a ruse to distract from WikiLeaks revelations about the Democratic presidential nominee.
"[FBI Director James] Comey is just doing this to take everyone's attention off of the WikiLeaks email dump," he said during his daily radio broadcast. "[H]e knows that everybody's gonna say, 'Wow! There must be something brand-new that's dynamite. There must be something that's gonna just end it for her.'"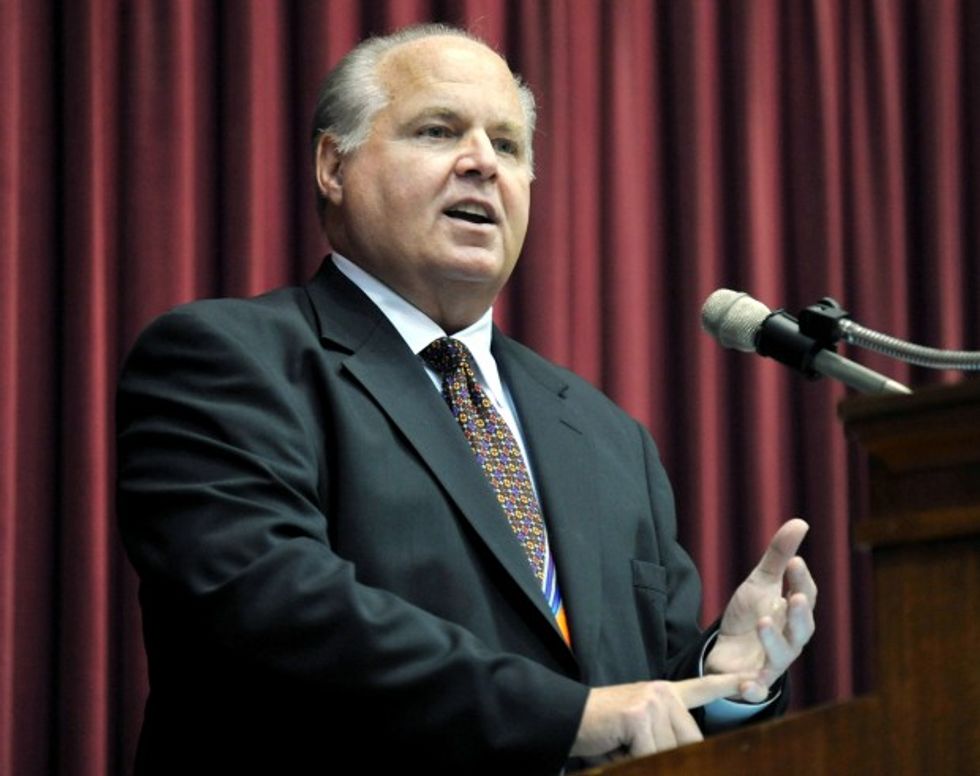 Rush Limbaugh (AP Photo/Julie Smith, File)
Limbaugh said he is concerned reporters — and voters — will stop paying attention to Clinton campaign emails stolen by WikiLeaks, which he said are having a "negative impact" on the Democratic candidate, and will instead shift their focus toward a revived FBI probe that will ultimately be nothing more than a "false alarm":
That's the cynical view. The cynical view is that Comey is still carrying water for Clinton and is trying to get everybody to stop paying attention to the WikiLeaks dump because it's starting to have an impact.

So you announce you're opening the inquiry, get everybody all hot and bothered and focused on it, and then after three or four or five days, announce that it was a false alarm, nothing to see here. The investigation is now officially over — and, meanwhile, in that five-day period everybody's forgotten about be WikiLeaks.
Despite the report about the FBI's discovery of new emails, which were uncovered during the agency's probe of disgraced Rep. Anthony Weiner's sexting scandal, the conservative talker believes the real smoking gun remains in the WikiLeaks documents.
"The WikiLeaks scandal right now is starting to hurt because it is exposing the fraud and the hustling and the collusion and the corruption that is going on at the Clinton Foundation," he said. "You start messing around with things that are supposed to be charitable to serve humanity [and] you end up profiting personally from it, that's easy to understand."
He added, "Everybody knows that's not nice. Everybody understands that you're not supposed to get rich off a charity. And the news here is that the Clintons have done that and are doing that."
In a letter to Congress Friday, the FBI announced it had discovered new documents that "appear to be pertinent to the investigation" into Clinton's use of a private email server during her tenure as secretary of state — an issue that has dogged her campaign from the start.
The move comes just 11 days before voters go to the polls to cast their ballots for Clinton or Republican presidential nominee Donald Trump, who has already capitalized on the development.
In a statement released Friday afternoon, Clinton campaign chairman John Podesta called the FBI's decision "extraordinary," while interim Democratic National Committee chairwoman Donna Brazile simply said, "Good grief."
Fear:
F. False
E. Evidence
A. Appearing
R. Real

— Donna Brazile (@donnabrazile) October 28, 2016