As part of its bizarre ongoing document dump pertaining to both of the two major presidential candidates, the Federal Bureau of Investigation has released into its online records vault a series of documents relating to the death of former Clinton confidant Vince Foster.
Foster was deputy White House counsel under former President Bill Clinton, and his death — which was ruled a suicide — immediately sparked conspiracy theories that he was killed by either the Clintons or their allies in order to allegedly keep Foster quiet about his knowledge of the ongoing Whitewater scandal. Foster was found dead in Fort Marcy Park of an apparently self-inflicted gunshot wound on July 20, 1993, and immediately afterwards chief White House counsel Bernard Nussbaum removed documents from his office for safekeeping.
Even though Foster's death was ruled a suicide by law enforcement and was also investigated by a special prosecutor, conspiracy theories regarding his death — and the Clintons' alleged involvement in it — have been especially persistent. During Bill Clinton's presidency, prominent conservative talk radio host Rush Limbaugh had a running joke in which he would tell his audience every time he left for a vacation, "If I don't return, look for me in Fort Marcy Park."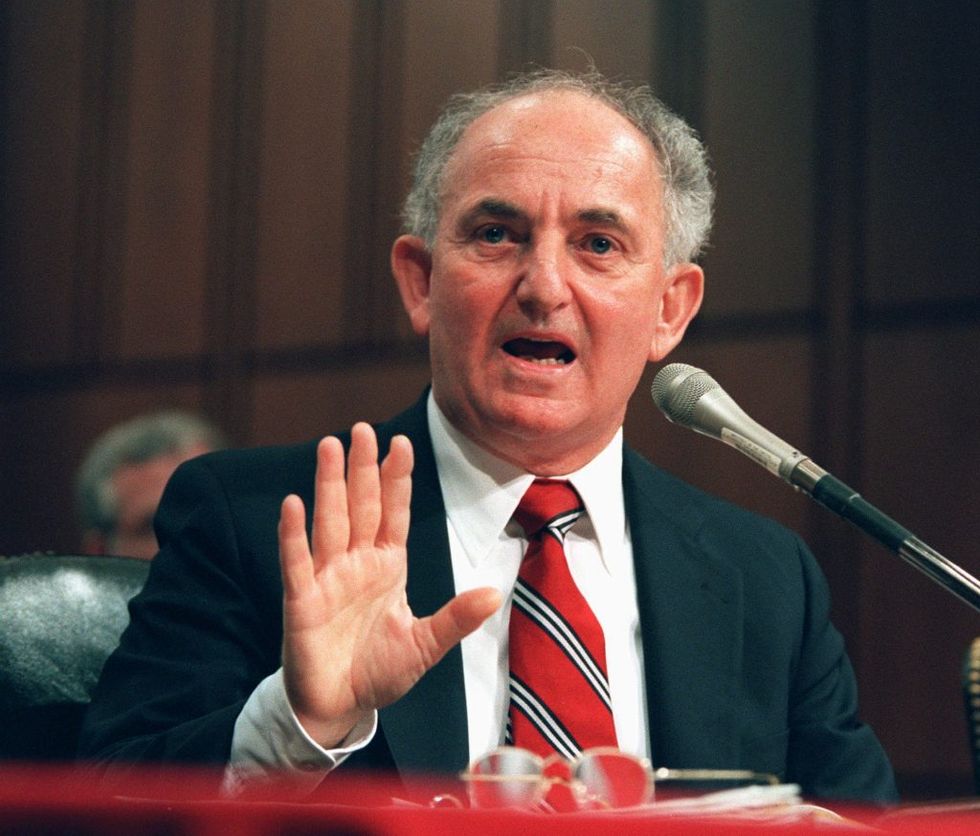 Former White House Counsel Bernard Nussbaum testifies on Capitol Hill Aug. 9, 1995, before the Senate Whitewater Committee. Defending his actions in the face of strong criticism, Nussbaum told the committee that it was "my ethical duty to restrict police access to Vincent Foster's documents." (AP/Joe Marquette)
Republican presidential nominee Donald Trump made an issue of Foster's death on the campaign trail earlier this year, stating that the theories of foul play regarding Foster's death were "very serious" and calling the circumstances of his death "very fishy."
The documents released by the FBI do not appear to shed any new light on the Foster case, and in fact, they appear to offer the official explanation for many of the oddities offered in support of the Foster conspiracy theories, such as the fact that Foster's hands were found "peacefully by his side" and accounting for the location of the blood around his body. However, they once again place the name "Vince Foster" in the public consciousness at the worst possible time for Hillary Clinton.
The FBI seems to be responding to criticism that Director James Comey's letter to Congress selectively revealed information about Clinton while ignoring information in their possession about Trump. Since Comey's letter on Friday, the FBI has released documents pertaining to an investigation of Trump's father, Fred Trump, and an FBI source revealed to the New York Times that the FBI had investigated possible ties between Trump and Russian interests. The FBI also released documents Tuesday pertaining to their investigation of former president Bill Clinton's 2001 pardon of Marc Rich.
It seems that the FBI is prepared, over the next several days, to release every document in its possession that related to any investigation they have ever conducted that pertains to either of the two major presidential candidates. It is unknown what effect, if any, these releases will have, or how they might affect the agency's relationship with the new president-elect, whoever it might turn out to be.